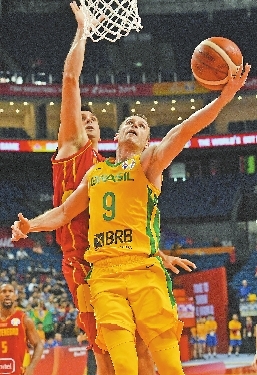 BRAZIL staved off a resilient Montenegro, 84-73, to complete a sweep of Group F at the FIBA Basketball World Cup in Nanjing on Thursday.
Brazil and Montenegro battled back and forth early in the game, as coach Aleksandar Petrovic chose to rest his usual starters, but the Brazilians' unconvincing play eventually forced him to bring in Leandro Barbosa sooner than he wanted to right the ship.
Brazil led at the half, 43-38, and appeared to blow the game open in the third quarter thanks to tight defense and great transition offense.
They turned a five-point halftime lead into a lead as high as 15 before settling for a 12-point lead heading into the fourth quarter and holding on for their third win in as many games.
The Montenegrins clawed their way back and trimmed Brazil's lead to just one point, 73-72, with four minutes left before Barbosa sparked Brazil's end-game push to seal the 11-point victory.
Meanwhile, a key 26-14 third quarter helped Canada smash Senegal 82-60 in Group H of the World Cup in Dongguan on Thursday.(FIBA)