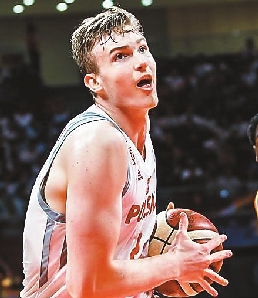 AT 18 years old, Poland's Aleksander Balcerowski is the youngest player in the FIBA Basketball World Cup 2019 and despite his age, the 2.15m center is unfazed by the magnitude of the most prestigious tournament in the world of basketball.
Thrust into the spotlight at such a young age, the Polish big man's demeanor and attitude have shown phenomenal maturity.
"This is crazy for me playing, in the World Cup, but I am not trying to think about it too much. When my number gets called, I'm not thinking that I'm only 18. I'm just one of the guys and I work hard when I am on the court to help my teammates and help my team get the win," said Balcerowski.
Balcerowski, also known as Olek, has been part of head coach Mike Taylor's rotation in Poland's group phase campaign of the World Cup and the American coach spoke highly of Olek's potential and even more of his attitude.
"Olek has tremendous potential he's got a bright future ahead of him in basketball. He's being prepared well in Gran Canaria and he's come from a great family that helps him stay grounded," Taylor said. "I think he's done a fantastic job considering the bright lights and the stage that he is on. He is a very down to earth, great kid."
Taylor mentioned the family support and Olek is certainly not lacking inspiration especially with his father, Marcin Balcerowski, acting as a huge source of motivation. The elder Balcerowski plays for Poland's wheelchair basketball national team and even guided the country to fifth place at the 2018 World Championship in Germany.
"I am very motivated to do well because of my father who is a huge inspiration for me. We have a great father-son relationship and we motivate each other to do well for Poland. We talk to each other every day and he still gives me words of encouragement," said Balcerowski.
Despite not being named to any of the qualifier teams of Poland, Balcerowski was included in the Final 12 of Polska. Balcerowski is soaking everything in which bodes well for his burgeoning career.
"I think he can reach the highest levels and most importantly for me is his attitude. I want him to have fun and passion for basketball, and I want him to love the process of practicing and getting better," Taylor said.
Poland swept its group phase schedule with impressive victories over Venezuela, China, and Cote d'Ivoire, but Balcerowski and Poland are hungry for more glory in the World Cup.
"We waited 52 years for this, we worked so hard to come here to show that Poland can make it and that's it, we are here to show that Poland is a basketball country," Balcerowski proudly stated.
"We respect all the teams and we are excited to play against Argentina and Russia in the second round. We respect all the players and all the teams but we are ready to play hard for 40 minutes and fight for the win," he added.
Balcerowski was a huge factor in Poland's crucial overtime victory over host China. "I've learned so many things already, just the way to prepare professionally and to play against great players in high-pressure games. It has been a really great experience and I am continuing to learn something new every day," he said.(FIBA)