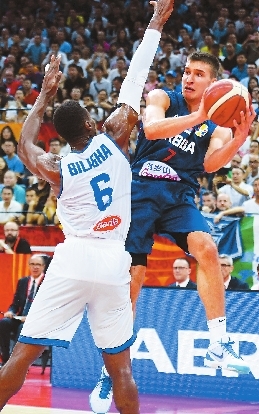 SERBIA extended its winning streak at the FIBA Basketball World Cup thanks to a 92-77 win over Italy in Foshan on Wednesday night.
It was the third win in as many Group D games for the Aleksandar Djordjevic-coached side.
Bogdan Bogdanovic, who averaged a team-high 20.5 points prior to Wednesday's game, came up with yet another stellar performance, making 18 points from behind the arc to finish with a game-high 31 points. Three other Serbians scored in double figures including Miroslav Raduljica, who made all of his 12 points from the free-throw line.
And although Danilo Gallinari had a solid performance, finishing with a team-high 26 points and eight rebounds, and Marco Belinelli added 15 points, the game belonged to Serbia.
After beating the Philippines and Angola by large margins, Serbia has now scored 90+ points in its last three games in this year's FIBA Basketball World Cup.
Italy led by two (10-8) early in the first quarter, but a lay-up from Nikola Milutinov tied the game at 10-all. Bogdan Bogdanovic followed up with his third straight three-pointer, sparking the Serbs offense to a comfortable win.
Bogdan Bogdanovic has been on fire in Foshan. He showed signs of a performance for the ages early in the game after hitting three straight three-pointers to close the opening quarter with nine points.
In the process, Bogdanovic became the first player combining for 30+ points, 5+ assists and 5+ steals in a single FIBA Basketball World Cup game since 1994.
Finishing top of Group D was key to Serbia and Italy as the two sides will switch to Wuhan's Group J, where they will go up against Spain and Puerto Rico, who finished first and second in Group C, respectively.(FIBA)