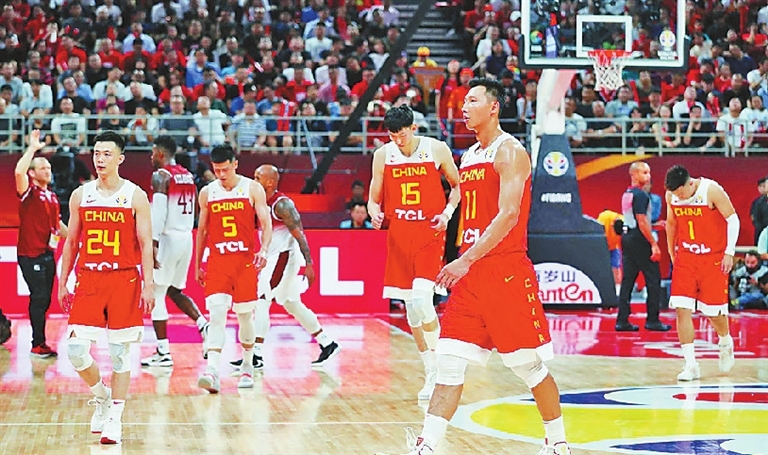 YAO MING looked on helplessly and fans were left in tears, as host China failed to progress to the second round of the FIBA World Cup with a 72-59 defeat to Venezuela in Beijing on Wednesday night.
Heissler Guillent tallied 15 points while Dwight Lewis scored 13 points, Gregory Vargas had 12 and Nestor Colmenares chipped in 11 points as the South Americans out-hustled China in many regards — also with a number of players coming up with big plays throughout the game.
Venezuela's victory pushed the team to 2-1 and second place in the group for a spot in the second round with Poland.
It is the first time that Venezuela advanced from the opening group phase, finishing 11th in 1990, 14th in 2002 and 21st in 2006.
Fang Shuo scored 13 points for China, which finished group play with a 1-2 record as the team got just 21 points from the star trio of Yi Jianlian, Zhou Qi and Guo Ailun.
China had trimmed a double-digit deficit down to five points — 39-34 — late in the third quarter but Colmenares and Luis Bethelmy both hit three-pointers in a 12-2 run for a 51-36 margin.
It would be pushed out to 12 points 60-48 with under 5 minutes to play and China would not get closer than seven points the rest of the way.
Venezuela dominated the boards with 49 rebounds to China's 28, including 20 offensive rebounds while holding the hosts to just 33 percent from the field, including 22 percent from long range. The Chinese also hit just 14-of-22 free throws (64 percent).
After beating Cote d'Ivoire for its first win, Venezuela made it two straight and can now focus on the second round in Foshan where the team will face Argentina and Russia in Group I.
Because of the format of the World Cup, China's tournament is not over and the Chinese players will now need to rally themselves to compete in a low-key classification round with Tokyo 2020 Olympic qualifying in play.
Basketball, along with soccer, is the most popular sport in China. But that has failed to result in a top-class team and there is no current successor to trailblazer Yao.
The former Houston Rockets All-Star, now 38, took over as head of the Chinese Basketball Association in 2017 and set about reforming a system that he says badly needs an overhaul.
He might want to ramp up his development plan after this demoralizing showing on home soil, with the Venezuela defeat giving China a record of one victory — over the Cote d'Ivoire — against two losses.
Coach Li Nan said China never fully recovered from Monday's crushing 79-76 overtime defeat to Poland.
"We tried to get our mentality right, to play with confidence, but something was left over from that game," he said, calling the Venezuela defeat "a very tough loss."
"Venezuela is a very experienced team but we don't have time to dwell on the loss because we still have games to play," said Chinese guard Fang Shuo.
(SD-Agencies)