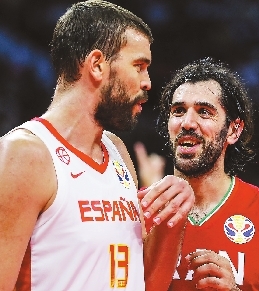 SPAIN can breathe a sigh of relief after avoiding what would have been a big upset in the FIBA World Cup against Iran in a 73-65 win in Guangzhou on Wednesday night.
As games with Spain go, this one went much better for Iran.
It could have easily gone the other way and become a historic win for Iran, which has yet to defeat a European side in World Cup play in six tries now. The Persian protagonists scored the game's first 10 points and were ahead 21-18 after the first 10 minutes. Down by two at the half, they were ahead again by one with one quarter to play.
With this win, Spain has won all its preliminary round games in four of the five FIBA Basketball World Cup tournaments the side has played since 1998.
Spain moves on to Wuhan for games with Serbia and Italy in Group J. Iran will go to Group N in Beijing with Angola and Philippines for classification games.
Iran was ahead 63-62 with 4:10 left when Victor Claver hit one of two free throws to even the game. Claver then found Juancho Hernangomez to put Spain ahead by two only to have Iran's main man Hamed Haddadi (10 points) tip in to equalize. The man of many L's, Sergio Llull, knocked down the winning three-pointer with 1:31 to play. Claver dunked 20 seconds later before Gasol closed it out with his trey.
Marc Gasol led Spain once again with 16 points, six rebounds and three assists to be the man of the match for the second game in a row.
He was 1-of-5 from beyond the arc but that one was an exclamation point for a game that La Roja could have, perhaps should have, lost.
Spain had already moved to the next round before the first whistle blew and played uninspired for most of the game until the reality of losing became just that real. (FIBA)