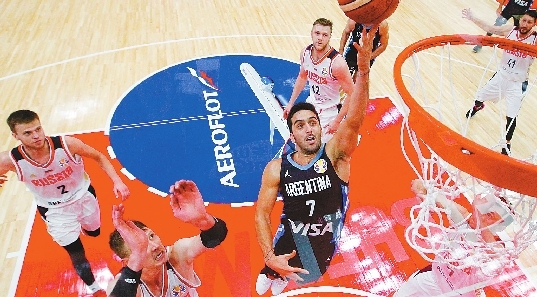 AN impressive 21 points, seven assists and six rebounds from point guard Facundo Campazzo helped Argentina past Russia in a 69-61 Group B win in Wuhan on Wednesday at the FIBA World Cup.
Campazzo was named the undisputed Player of the Game — a well earned feat that saw his teammates celebrate his achievement passionately at the end of the game.
Big in the paint on both offense and defense, power forward Luis Scola used both size and experience to add 13 points and eight rebounds to the statistics board. Marcos Delia contributed 13 points as Argentina fazed off a tough and familiar opponent.
A seven-point lead established in the third quarter, which saw Argentina limit Russia to just seven points, set the tone for the eventual result even though Russia pushed the South Americans all the way in the last quarter, scoring 21 points — their highest in a quarter throughout the game — but this was not enough.
There are not so many options one can display when coming up against a very quick and intelligent point guard like Campazzo.
The victory sends Argentina to the top of Group B with a 3-0 record and sets up a date with Venezuela in the first game of the second round, while Russia will begin the next phase of the competition against Group A leader Poland in Foshan.(FIBA)