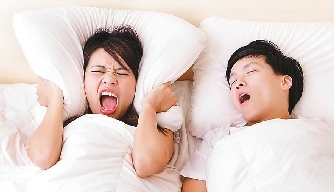 IF your partner keeps you awake at night snoring, getting up frequently, stealing the covers, or just being generally annoying in bed, it might be time for a sleep divorce. What is sleep divorce, you ask? Many couples who interrupt each other's nightly rest have found refuge in sleeping apart, and discovered it helps not only their shut-eye quotient, but their relationship.
"As a couple, if you enjoy sleeping together and can do so without one party disrupting the other's sleep, then that is a great outcome. However, it doesn't mean that your relationship is better than a couple who sleeps separately," says Jennifer Adams, author of "Sleeping Apart Not Falling Apart," who sleeps in a separate room from her husband of 15 years. "Hundreds of thousands of couples are heading to separate rooms each night and enjoying a full life, and great relationships, because they get a good night's sleep each night."
The social norm of married couples sleeping together in one bed is actually not that firmly established, either. Atlas Obscura explains that households right up through Victorian times often bedded down together, both out of necessity and to foster community. In the Middle Ages, peasants often slept on the floor with the entire family — livestock included — to keep warm and safe during the night. And as beds became fashionable in the 15th century, people built them as big and opulent as they could afford, with enough room for everyone to share and bond as they cuddled. Only the very upper crust would have had more than one bed, and even then, servants often slept with their lords and ladies so they could be at their beck and call at a moment's notice.
It wasn't until the mid-19th century that separate beds became the norm, largely to avoid spreading germs between close bodies and to mark women embracing their newfound independence. Setting up twin beds meant wives didn't have to make themselves continually available to their husbands, a sort of bedtime sexual revolution that lasted into the 1970's.
Only then did the twin's reputation flip, and people began to see separate sleeping as prudish and old-fashioned. That led to a resurgence in the close entanglement most of us expect of married couples today.
When Adams was conducting research for her book, she heard from many couples who reported snoring, schedule mismatches, environmental preferences, and movement in bed as reasons they decided to sleep apart. And making that choice can really turn a relationship around. "As soon as you are getting the sleep you need, I can almost guarantee the relationship will flourish because you won't be sleep deprived," she says. "Feelings of resentment that build from lying awake each or most nights are destructive for a relationship and dealing with those feelings of resentment when sleep-deprived is not recommended."
Sleep problems are observed frequently among older adults and include waking early, taking longer to fall asleep, and frequent waking during the night.
(SD-Agencies)