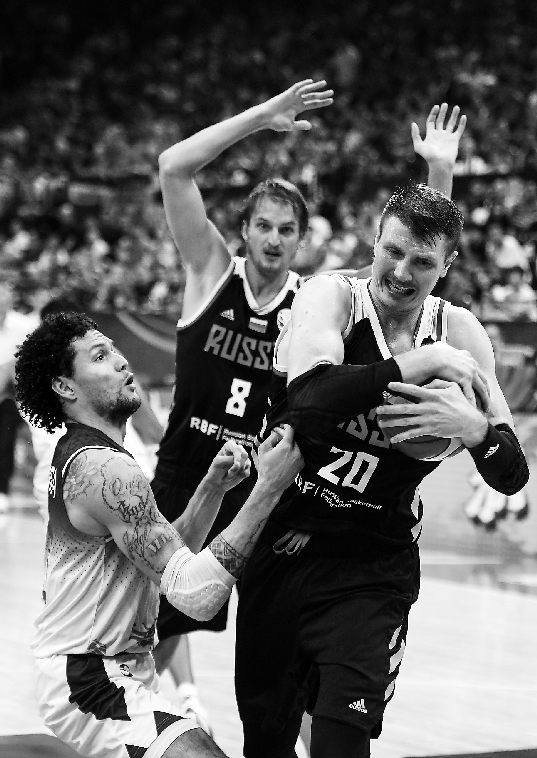 RUSSIA capped its FIBA Basketball World Cup in a triumphant manner after outclassing Venezuela 69-60 in Group I in Foshan yesterday.
"We are glad that we'll go home with victory. We expected it to be a physical game, kind of like wrestling. What's important is to find guys who can fight and break their pressure," Russian head coach Sergey Bazarevich noted.
Both sides had been dumped out of the last eight prior to their head-to-head. Russia finishes its time in China on 3-2 after the second round of action, while Venezuela sits at 2-3.
At 50.9 seconds from time, Russia still had a double-digit advantage in hand. The time was not enough for Venezuela to mount a big run to turn the table.
Andrey Vorontsevich posted 17 points and nine rebounds for Russia. Grigory Motovilov and Nikita Kurbanov helped with 12 a piece.
"It's a really good tournament for us. Of course we didn't take all we wanted, but we made a step for qualification for the Olympic Games," said Vorontsevich. "Venezuela is a very tough team. For us it feels good to go home with the last win."
The two teams were restrained to a below-par shooting performance in a tightly contested opening quarter.
Venezuela converted four of 19 attempts, while Russia just nailed one triple, with its remaining points all from the free throw line.
Michael Carrera's driving layup put an end to Venezuela's scoring drought in almost four minutes, but Russia maintained a slim advantage at 13-10 as the first 10 minutes expired.
Sluggishness at the offensive end continued to bother the two sides, who were tied at 27-all at halftime.
"There is a big difference in free throws in the first half. They scored most of their points on the free throw line," commented Venezuela's small forward Jose Vargas, adding that "we had a slow start of the game. We made adjustments and tried to follow the game plan."
Heading into the final period at 48-42, Russia staved off their South American opponents through free throws.
Carrera had a match-leading 19 points. Jhornan Zamora added 13.
Argentina and Poland will vie for the group winner in an upcoming match. (Xinhua)