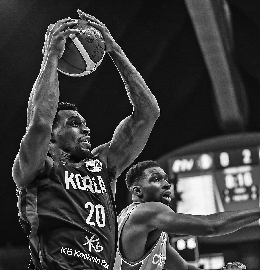 SOUTH KOREA managed to bag its first and only victory after beating Cote D'Ivoire 80-71 in the classification round of the FIBA Basketball World Cup in Guangzhou yesterday.
Ra Guna scored a game-high 26 points for South Korea.
The American-born center averaged 22.3 points and 12 rebounds in five games at the World Cup. Charles Abouo had 15 points for Cote D'Ivoire.
Earlier in the game, Ra scored eight points to pace South Korea to an 18-14 lead in the first quarter.
Hoon Heo hit a three-pointer to start the second quarter and South Korea railed to a 10-0 run. The South Koreans made four three-pointers to increase their lead to 50-30 at the end of the first half.
After the halftime break, South Korea kept its advantage well to lead 66-47 into the fourth quarter.
Bryan Pamba hit four straight points in a 12-2 run for Cote D'Ivoire, who managed to cut the deficit to within 10 points at 68-59 with six minutes on the clock. However, Kim Sun-hyung scored a three-pointer and South Korea was able to charge back into the game and maintained their advantage to the final whistle.(Xinhua)