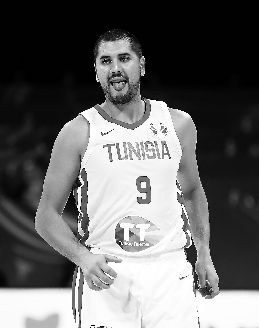 MOHAMED HADIDANE sank a 3-pointer with 6 seconds remaining, lifting Tunisia over Angola 86-84 in the classification round of the FIBA World Cup in Beijing yesterday.
Hadidane's three-pointer, the only shot he made in the whole game, gave Tunisia a 86-82 lead to sail to the victory. Michael Roll scored a game-high 21 points to lead Tunisia, while Makram Ben Romdhane added 20 points, eight rebounds and seven assists. Salah Mejri had 18 points, eight rebounds and eight blocks.
Yanick Moreira finished with 21 points and nine rebounds for Angola, who trailed by 15 points at the break.
Tunisia had an 11-point lead entering the second quarter and made a 10-2 spurt, including two three-pointers from Romdhane, to extend it to 52-37 at halftime. Tunisia suffered a scoring drought of about 4:30 minutes as Angola opened the second half with a 10-0 run to get within five points.
Mourad El Mabroukv's jump shot ended the drought and led a 8-2 run to make it 60-49 for Tunisia, but Angola fought back again to cut the lead to 67-65 into the fourth.(Xinhua)