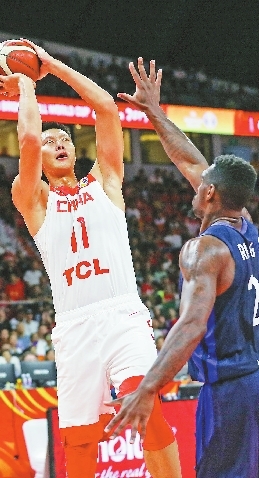 THE Chinese men's basketball players have regained their confidence after registering a valuable victory over South Korea at the FIBA Basketball World Cup in Guangzhou.
Friday night's 77-73 win over South Korea in the classification round kept both China's hopes alive to qualify for the Tokyo Olympics and their confidence.
"We needed the victory. We had lost a couple of games we shouldn't have, which had some negative impact. Hopefully we can gain confidence through this game," China coach Li Nan said.
"Many thanks to all of you cheering for me, I heard all the inspiring words. It was heart-warming. I am so deeply moved," Zhou Qi said.
Zhou had been under attacks after China's 79-76 overtime loss to Poland on Tuesday when Zhou's throw-in was stolen by his Polish opponent in the final seconds of regulation. China was dragged into the overtime and lost.
This back-and-forth game between China and South Korea of Group M in the classification round of 17-32 preserved China's hope for an automatic berth at next year's Tokyo Olympic Games.
Many Chinese fans were able to watch the thrilling game through the public signal processed by the broadcasting group of Tencent Sports.
As the main broadcaster to join the live streaming of all World Cup games in Guangzhou, Tencent Sports invested heavily to achieve this excitement-for-all moment.
Nearly 20 hyper-cardioid microphones were decked out around every corner of the court. Watching the game through a screen, Chinese fans, hearing the crash and crack of balls bouncing and shoes clumping on the ground, can enjoy the same experience as those who are courtside.(Xinhua)