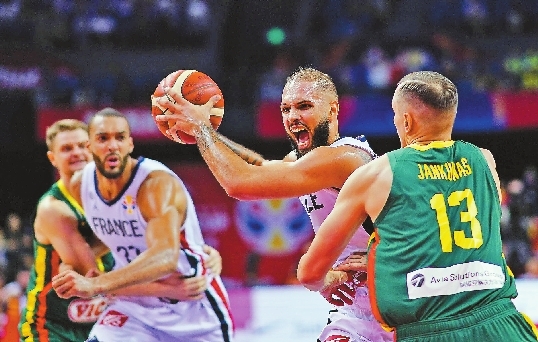 TWO more teams advanced to the quarterfinals of the FIBA Basketball World Cup with Australia and France confirming their entries Saturday and joining Poland, Argentina, Spain and Serbia in the final round of the competition.
Australia eked out a close 82-76 decision over the Dominican Republic to remain unbeaten in four games while France survived a thrilling 78-75 victory over Lithuania that came down to the wire.
In a re-match of the FIBA World Cup 2014 third-place playoff in Nanjing, France jumped out to an early lead only to then withstand a furious rally from Lithuania.
France's dynamic backcourt of Evan Fournier (24 points) and Nando De Colo (22 points) hit big buckets down the stretch to snuff out Lithuania's challenge, which was led by big man Jonas Valanciunas (18 points).
Australia and France will fight for the top spot in Group L. In the classification round, New Zealand dominated Japan 111-81 while Turkey beat Montenegro 79-74. In Group P action, Canada overpowered Jordan 126-71.(FIBA)