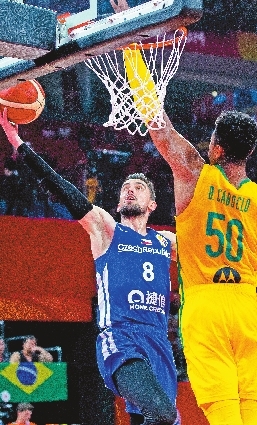 THE Czech Republic continued to surprise naysayers with a huge 93-71 victory over Brazil to improve their record to 3-1 in the second round of the FIBA Basketball World Cup in Shenzhen on Saturday.
The Czechs outclassed their South American counterparts in a crucial game, putting a blemish to Brazil's record (3-1) and keep their own quarterfinals hopes alive.
The Czech Republic played brilliantly from start to finish, buoyed by their 56 percent shooting, and employed their size advantage brilliantly, outrebounding Brazil 39-28.
Vitor Benite knocked down back to back triples in the midway of the third period to cut the deficit to 13 but the Czechs closed out the period with a quick 8-2 zip to break the game wide open 65-46.
Tomas Satorasky was the man of the moment again for the Czech Republic, flirting with a triple-double with 20 points, seven rebounds and nine assists.
The win boosted the Czech Republic's hope to barge into the quarterfinals. In case of a three-way tie, the point differential is a welcome factor in their case for a top-eight finish.
"Another great game for us. We shared the ball and we adjusted well, so I salute my players and my coaching staff. It's an amazing time for us," said head coach Ronen Ginzburg of the Czech Republic.
"I was surprised, at any minute of the game, we cannot respond to the Czech Republic's intensity and they dominated all aspects of the game," said Brazil head coach Aleksandar Petrovic.(FIBA)