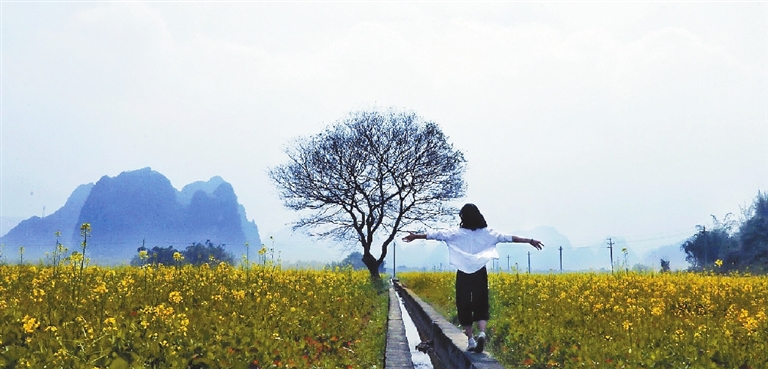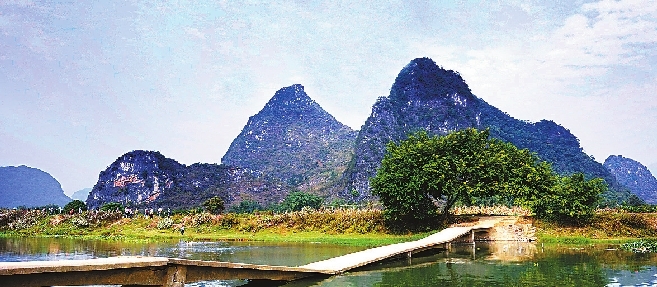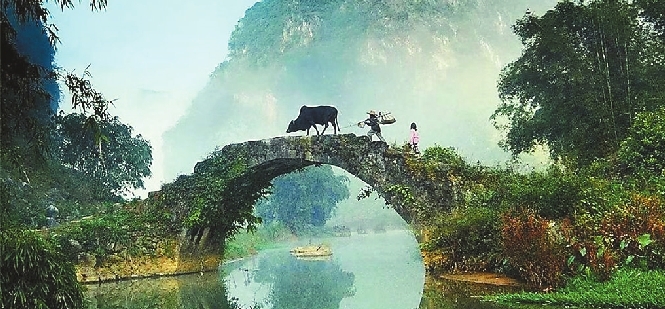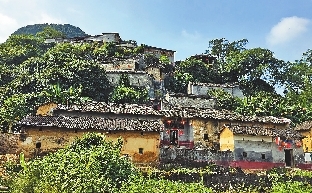 JUST a three-hour car drive or ride on a high-speed train from Shenzhen will lead you to Huanghua Town of Yingde City in northen Guangdong Province, a wonderland where you can enjoy views just as breathtaking as Tibet's Potala Palace, Hebei's Zhaozhou Bridge, and Guilin all at once in Guangdong.
Peng Ancestral Hall —
'Small Potala Palace'
Built between the late Ming (1368-1644) and the early Qing (1644-1911) dynasties, Peng Ancestral Hall, which leans against Luoshan Mountain in Kengba Village of the Mingjing Community in Huanghua Town, looks like the Potala Palace. The buildings of the ancestral hall, arranged in three tiers, have cliffs on three sides. Only through a narrow stone path can one get to the top tier. All 120 rooms have been well preserved since it was first built, and you can still find delicate ancient carvings on the ceilings and the windows.
To depart from the ancestral hall, you can take a bamboo raft in the river and unwind in the tranquility of the mountains.
Tickets: 80 yuan per person for Peng Ancestral Hall and the bamboo raft tour
Yongfeng Ancient Bridge —
'Small Zhaozhou Bridge'
Another ancient scenic site nearby is Yongfeng Ancient Bridge, a stone bridge over a running brook dotted by verdant bamboo woods and rustic country houses along its banks. The occasional farmer strolling across the bridge with his cow is reminiscent of a peaceful, idyllic painting.
Yingxi Fenglin Corridor —
'Small Guilin'
Yingxi Fenglin Corridor, which was formed over 200 million years ago, is a natural masterpiece. With over 1,000 hills of varying shapes and rivers meandering around the hills, it is a must-visit destination for hiking and photography lovers.
Apart from the hills, there are two caves that can't be missed. One of them is formed by a river that runs across a hill. With luxuriant plants around and a bridge at its side, the cave is a fairyland when light pours through the two holes on its ceiling. Boat tours through the cave are available.
The other cave, known as the Yangyan Cave, will amaze you with stalactites and stalagmites lit up in dazzling colors. But if you're looking for something more thrilling in the cave, the glass skywalk, under which are high-speed rapids, will be a good choice.
Tickets: 118 yuan per person for the boat tour, Yangyan Cave, glass skywalk and glass viewing platform
Food
Recommended local foods include Jiulong tofu, leichazhou (rice porridge with tea and peanuts), fried fish, Huanghua chicken, and aici or huangci (herbal sticky rice cakes).
Transportation:
Take the high-speed train from Shenzhen North Station to Yingde West Station and transfer to Bus Route 1 to Yingde Bus Station. Then take a minibus to Jiulong Town and walk, drive, or bike to the destination. (Lin Lin)