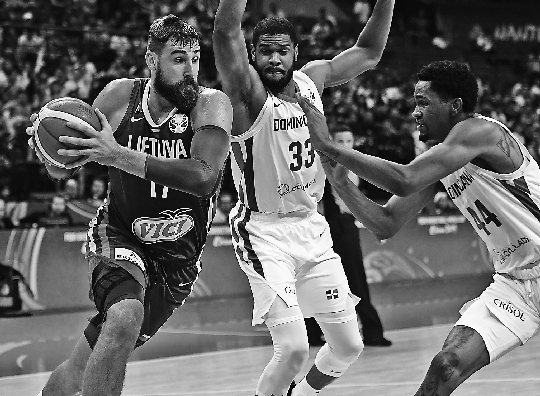 LITHUANIA completed its FIBA Basketball World Cup campaign on a high note with a convincing 74-55 victory over the Dominican Republic in Nanjing yesterday.
Jonas Valanciunas registered a double-double 19 points and 10 rebounds to inspire the Baltic Giants to their third win at the World Cup as they finished third in Group I. This individual performance earned him yet another Player of the Game award.
Having reached the second round, both teams qualified for the next summer's Olympic Qualifying Tournament, where they will be looking to book a place at the Tokyo 2020 Olympics.
Lithuania was in the lead from the onset and took control of the game with the ability to give a playing chance to every player apart from Domantas Sabonis, who sat out the whole game.
Jonas Valanciunas recorded his second double-double of the tournament with 19 points and 10 rebounds.
The Dominican Republic only managed to convert 21-of-62 of their field goals, which was just 33.9 percent accuracy — a figure they will quickly want to erase from their minds as they leave China.
Lithuania will feel undone by their two losses to Australia and France — games that were close and on another day could have gone their way and led them to the big stage in Beijing, but the odds were stacked against them this time round.
"It was a good victory but this is not what we expected because we expected to go further. What happened happened. We just have to look at what is in front of us and see what is left. We have a lot of changes to make now. We still do not know who is going to be the next coach. We have to look forward to the Olympic Qualifying Tournament and get ready for it," said Lithuania center Jonas Valanciunas.
"I think the players have shown that they respect this game — basketball. Thank you to them. Thank you to the fans because this game was about them," said Lithuania coach Dainius Adomaitis.
"We did not play a great offensive game by far today. Some of our defense was not great as well. We tried to play one-on-one versus five but Lithuania is a great defensive team. One-on-one, they are not good defensively but collectively they are good. That is what we should have done to take advantage and get easy shots," said Dominican Republic small forward Sadiel Rojas.(FIBA)