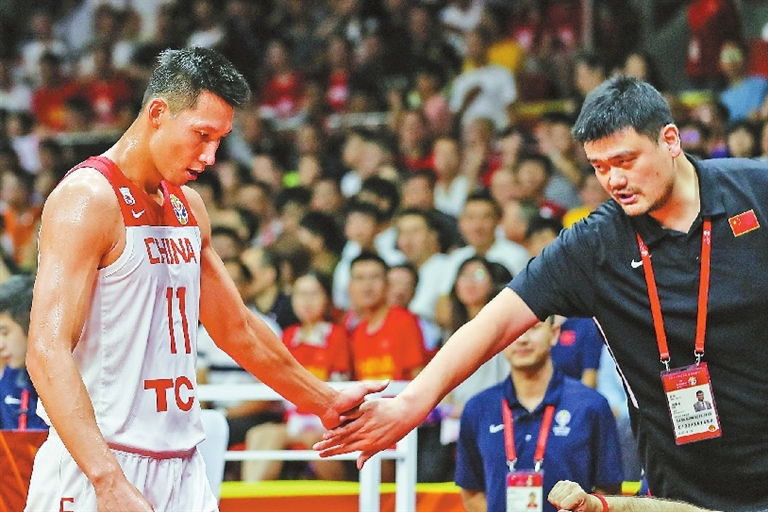 CHINA lost to Nigeria 86-73 in its last FIBA World Cup game in Guangzhou on Sunday night. That means Iran claimed the lone Asian Olympic qualifying spot available at the tournament, after the Iranians beat the Philippines 95-75, also Sunday night.
China will get a last chance to qualify to play at its 10th straight Olympics at a tournament next year, where it likely must go through higher-ranked European nations.
Fang Shuo pocketed five straight points for China after tipoff. The 29-year-old scored 11 points in the first quarter to give China a 21-19 lead, but Nigerians' solid defense in the second period forced China into fouls and turnovers. The hosts found themselves trailing 35-31 as the first half ended.
Yi Jianlian scored five straight points to cut the deficit to only one for China, but Nigeria's Ekpe Udoh answered with 11 points on jump-shots and layups.
Nigeria led 60-51 into the fourth quarter, which started with Zhou Qi's fifth personal foul. Yi stood out again to close the gap to only three at 62-59 with seven minutes to go. Fang and Abudushalamu shot two consecutive three pointers in the last three minutes. But those morale boosters came so late that nothing could stop Nigeria from winning the game.
Yi put up a game-high 27 points, followed by 19 points from Fang. Yi and Fang were the only two Chinese players that scored over 10 points.
"It is tough, it means a lot for me. I tried to play it as the last game of my career," Yi said.
Nigeria's win meant that the D'Tigers are going to their third straight Olympics. Nigeria needed to beat China to overtake Tunisia for the lone African Olympic berth available at the World Cup.
Iran and Nigeria join Australia and Japan as the first four teams in the 12-team Olympic field. Four more nations will qualify for the Olympics at this month's World Cup — two from the Americas and two from Europe.
The last four will be determined next year at the last-chance qualifying tournament.
Only Australia has played in more consecutive Olympic men's basketball tournaments on the active list than China.
China and the U.S. each played in every tournament starting with the 1984 Los Angeles Games. China didn't participate in the Summer Olympics from 1956 through 1980.
Now-retired Yao Ming led the team in 2000, 2004 and 2008, but the nation has never reached an Olympic semifinals.
Fellow former NBA big man Yi is the new elder statesman. In 2004, Yi played at age 16. He remains the youngest man to play Olympic basketball since 1948.(SD-Xinhua)