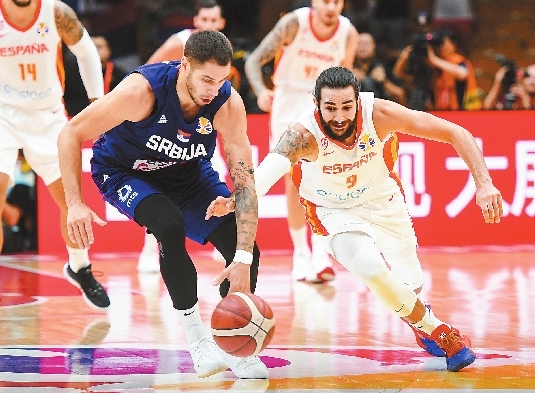 NICOLA JOKIC suffered a disqualifying foul as his Serbian side lost to Spain 81-69 in Wuhan in a Group J closing game at the FIBA World Cup on Sunday.
Both teams had secured spots in the last eight Friday, but they put their key players on the court in order to avoid setting a clash against Argentina in the quarterfinals.
With the victory, Spain will meet Poland in the first round of the elimination stage. Ricky Rubio of Spain put up an incredible performance with 19 points and five rebounds, while Victor Claver had 14 points, and Marc Gasol added 11 points.
Serbia made a 13-6 run at the start of the game and took a 20-13 lead in the first period.
Spain went on a 13-2 scoring run midway through the second quarter. Although the Spanish had a double digit advantage, they allowed their rivals to trim the margin to eight points at the halftime buzzer.
Marc Gasol bested his rival in the NBA Nicola Jokic and rebuilt a 10-point advantage for Spain at the beginning of the second half on a 9-2 run.
With 6:40 left before the fourth quarter, Jokic was disqualified. The Serbians, without the NBA All-Star class player, then trailed 67-56 after three quarters.
The 2016 Rio Olympic silver medalist narrowed the gap to one digit during the final quarter, through a Bogdanovic three-pointer, but it was Rubio who helped the Spanish put the game beyond its rival's reach with a set shot with 86 seconds remaining on the clock.
"Overall I think it was a good game for us, Serbia was scoring over 100, but we kept them below 70 points," said Spain's head coach Sergio Scariolo.
When talking about the experienced players on the Spain team, Scariolo said that it was hard for the veterans of his team to keep giving top performances in every game, but the experienced basketballers knew how to keep their energies in the game.
"They were definitely the better team. They took us out of our game plan in the second half, where we couldn't respond to their change of defenses. We made some inexplicable turnovers and playing this kind of game with 17 turnovers makes it completely out of reach for any opponent, even for us," said Serbian head coach Sasha Djordjevic.(SD-Xinhua)