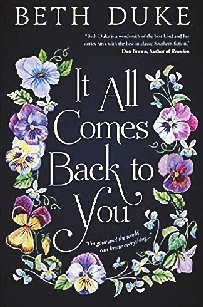 《昔日重来》
It's 1947. War's over, cherry-print dresses, parking above the city lights, swing dancing.
Beautiful, 17-year-old Violet lives in a perfect world.
Everybody loves her. In 2012, she's still beautiful, charming, and surrounded by admirers.
Veronica "Ronni" Johnson, licensed practical nurse and aspiring* writer, meets Violet in an old people's home. Ronni is very insecure and holds a lot of hurt in her heart. Taken away from her mother and put in care, all Ronni wants is to be loved. She is finally adopted at 16, but encounters heartbreak again when her adopted parents both pass away.
Ronni and Violet spend a lot of time with each other and form a sort of mother-daughter relationship. When Violet passes away she leaves Ronni a very generous bequest* — only if Ronni completes a book about her life within one year. As she's drawn into the world of young Violet, Ronni is mesmerized by life in a simpler time. It's an irresistible* journey filled with revelations, some of them about men Ronni knew as octogenarians at Fairfield Springs.
Ronni juggles her patients, a new boyfriend, and a Samsonite factory of emotional baggage as she tries to craft a manuscript before her deadline.
Beth Duke delivers an unforgettable elderly character to treasure and a young heroine to steal your heart.(SD-Agencies)