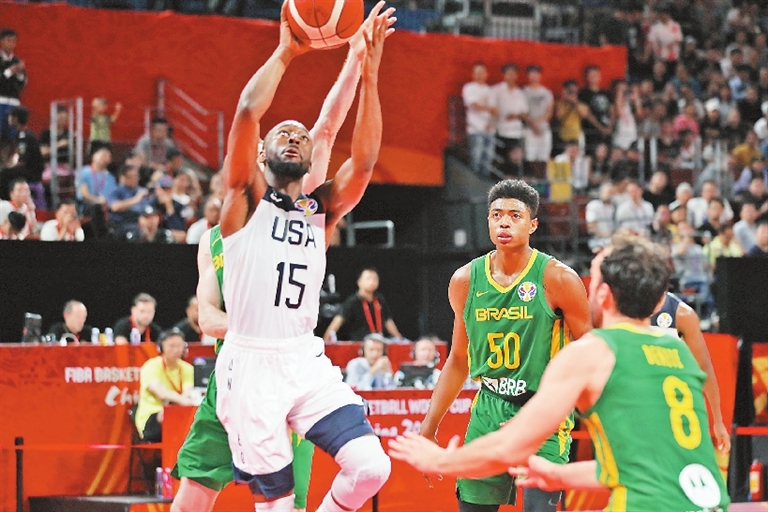 IT took a while for Team USA players to assert their might, but when they did, there was no stopping them as they knocked Brazil off with an 89-73 result in Shenzhen on Monday night.
Myles Turner sparked a promising start for Team USA, but Brazil kept abreast of the defending champions throughout the first half thanks to aggressive team rebounding and hot shooting from veteran Vitor Benite, who scored 15 of his 21 points in the first two quarters. This was despite the early exit of Brazil head coach Aco Petrovic, who was tossed for incurring two technical fouls with more than five minutes to play in the second period.
The Americans regained their groove in the second half, though, thanks to much tighter defense and sharper execution on offense. Even with both Jayson Tatum and Mason Plumlee not seeing action, coach Gregg Popovich's wards were able to pull through thanks to 16 points each from Kemba Walker and Myles Turner.
Team USA extended their lead to 11 points in the third quarter thanks to forcing turnovers and better rebounding and though Brazil tried their best to mount a last ditch rally, the Americans used that momentum heading into the fourth and cruised to their convincing win.
Myles Turner stood tall in this game for Team USA. The 23-year-old had his best performance so far of the tournament with 16 points, eight rebounds and two steals on 8-of-11 field goal shooting. That's a good sign for coach Popovich because if Turner continues this kind of production, the Americans are going to be difficult to stop.
(FIBA)