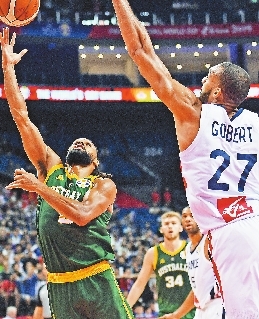 IN a battle between two heavyweights of the basketball world, Australia outdueled France with a heart-stopping 100-98 victory in Nanjing on Monday to take the top spot in Group L heading into the quarterfinals of the FIBA World Cup.
In a thrilling back and forth game that featured 15 lead changes, 17 ties on scoreboard and no one giving an inch, Patty Mills rose to the occasion with a clutch steal to deliver the win to the Boomers.
Down by one, 99-98 with 4.4 seconds left, France had a chance to win the game, but Mills' phenomenal defensive play saved the day for Australia.
The game displayed tremendous shooting from both sides with Australia and France delivering 58 percent and 57 percent, respectively, in a highly entertaining game.
In a game as close as this one, there wasn't a bigger play than Mills' steal that sealed the win. Mills is used to making a living on the offensive side of the ball, but the sharpshooting guard showed his determination to tow the Boomers to the top of their second round group.
Aside from his defensive gem, Mills continued his offensive brilliance, exploding for a team-high 30 points. Mills has scored 19+ points in his last four games with Australia in the FIBA Basketball World Cup. He scored 19+ points in only one occasion in his first seven games in the competition.(FIBA)