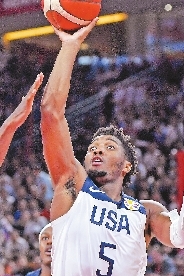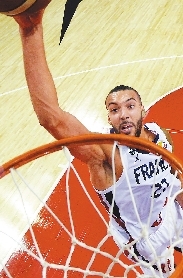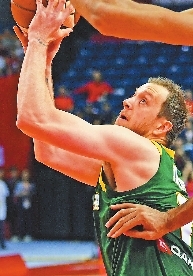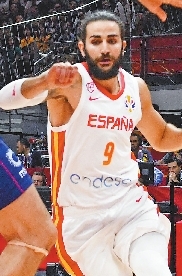 AUSTRALIA, France, Spain and the United States all reached the last eight of the FIBA Basketball World Cup, and chances are good that one of them will hoist the trophy — and that one Utah Jazz player will get bragging rights.
Each of those four teams have a player who was on the Jazz last season in Joe Ingles of Australia, France's Rudy Gobert, Ricky Rubio of Spain and USA's Donovan Mitchell. Rubio this off-season moved to the Phoenix Suns after two seasons in Utah, but there is still a very Jazz feel to the quarterfinals.
Actually there is probably a lot of different world music going on in the Jazz locker room as in addition to Gobert, Ingles and Mitchell, Utah's current roster also includes Ingles' Australian compatriot injured Dante Exum, Gobert's fellow Frenchman William Howard, Croatian Bojan Bogdanovic and Emmanuel Mudiay of Democratic Republic of Congo — resulting in the Jazz earning the nickname "United Nations of Utah."
"It is great. It shows that we have some good players in Utah," Gobert said.
The ultimate bragging rights of having captured the crown will not be decided until Sunday in Beijing. But Ingles did earn some initial ammunition for his basketball banter as Australia beat France 100-98 to capture first place in Group L.
"It was really just another game. I play against him every summer and play against him at practice all the time," said Ingles. "I love playing against great players and Rudy is a great player. I'm glad that we got the win tonight but I'm also glad he's my teammate at Utah."
While Gobert and Ingles have long been mainstays on their respective national teams, Mitchell is playing for the United States for the first time. That prompted Rubio, who has played for Spain's national team since 2008, including the 2008 Olympics final and the 2016 Olympic bronze medal game, to message Mitchell and say "Welcome to FIBA."
"It's pretty cool to have a teammate who has been around FIBA. He's told me about it," Mitchell said about the message from Rubio, who is averaging 14.6 points, 4.8 assists, 3.6 assists and 1.4 steals.(FIBA)