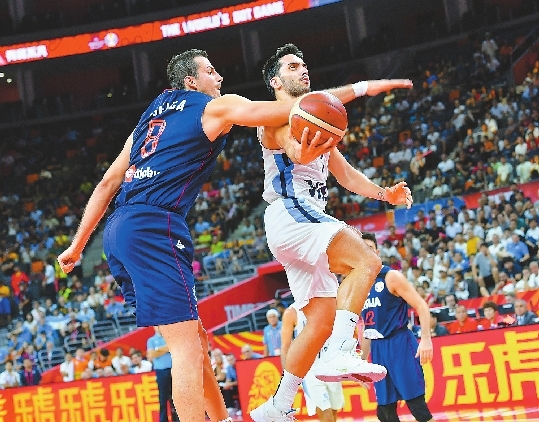 LUIS SCOLA and Facundo Campazzo scored a combined 19 points in the fourth quarter to help Argentina advance to the semifinals after beating Serbia 97-87 in the quarterfinals of the FIBA Basketball World Cup in Dongguan on Tuesday.
Scola scored 20 points and Campazzo had 18 for Argentina. Bogdan Bogdanovic scored a game-high 21 points and Nemanja Bjelica contributed 18 for Serbia.
Argentina led most of the way but Serbia took a 70-68 lead at the beginning of the fourth quarter. Argentina stormed to a 19-6 spurt, leading 87-76 with three minutes on the clock. Bogdanovic scored a three-pointer to narrow the gap, only to see Campazzo and Scola score to dash Serbia's hope.
After the tip-off, Nicolas Brussino and Campazzo combined on a 5-0 run for Argentina. Scola then hit a three-pointer to gift a 12-4 lead for Argentina. Jokic was trapped into turnovers but Lucic stood out to score six points to narrow the gap for Serbia. Argentina led 25-23 into the second quarter.
Argentina continued its fast pace in attack and kept a high percentage in three-point shooting. Luca Vildoza made three of his five three-pointer attempts and Argentina led 54-49 into the halftime break.
The game turned into an intense battle in the third quarter. Jokic dominated the paint as the Serbians found their rhythm to cut the deficit gradually. Argentina led 68-67 at the start of the fourth quarter.
A three-pointer by Marko Guduric helped Serbia take the lead at 70-68 to start the last quarter, but it was its closest moment to victory.
Facundo Campazzo had 18 points, 12 assists, 6 rebounds and 3 steals, becoming the first man with 15+ points, 10+ assists, 5+ rebounds and 3+ steals since Croatia's Toni Kukoc, who did it against Canada in 1994.
Argentina is back to the semifinals for the first time since 2006, when the side finished fourth in Japan. Serbia, a hot favorite coming into the World Cup with its 10-0 preparation period record, is out of the medal hunt and must focus on the classification games 5-8.
"We should have played better defense and more concentrated. The toughest matches are the quarterfinals but now we have lost the chance to win a medal," said Serbia shooting guard Bogdan Bogdanovic.(SD-Xinhua)