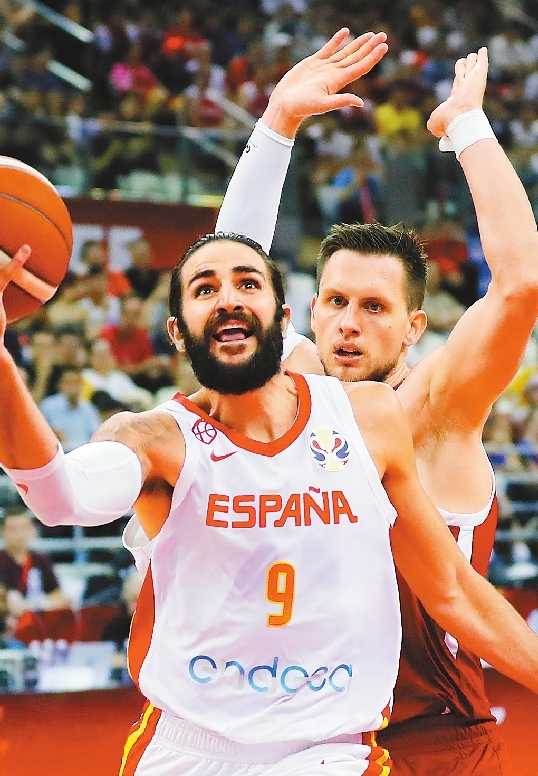 POLAND kept things close for one half before Spain turned up the jets and ran away with a 90-78 quarterfinals win in Shanghai Oriental Sports Center on Tuesday night.
This was Spain's sixth straight win at the FIBA Basketball World Cup, knocking out Poland from World Cup contention and relegating them to the classification round 5-8.
With stingy defense hounding top scorer Mateusz Ponitka all game long, Poland couldn't get much of a rhythm going. Ponitka had just two points in the entire first half, and Poland had to rely on Adam Waczynski's and A.J. Slaughter's combined 17 points to keep within striking distance of Spain.
Coach Sergio Scariolo's wards, however, came out of the half-time break more energized, and they soon erected a double-digit second-half lead they would protect until the final buzzer.
History was made as well, with Spain's Ricky Rubio officially overtaking Argentina's Pablo Prigioni as the all-time assists leader in the annals of the FIBA Basketball World Cup. Rubio finished with 9 assists in Spain's big victory on top of his 19 points, 5 rebounds and 3 triples.
Spain had a five-point lead after the first 20 minutes of play, but proceeded to kick into high gear in the third period, where they led by as many as 12 points and never looked back. As they entered the final quarter, Spain carried a nine-point lead and kept the Poles at bay the rest of the way thanks to crisp ball movement and sharp perimeter shooting.
Juancho Hernangomez and Rudy Fernandez were great in this contest, but it was Ricky Rubio who was named Player of the Game given his aforementioned stat-line. Couple that with his milestone playmaking achievement, and it was not a bad night for the 28-year-old floor general.
Spain got the job done on both ends of the floor against Poland. Coach Scariolo's team stole the ball nine times en route to forcing 15 Polish turnovers and scoring 20 points from those errors.
The Spaniards also displayed sublime playmaking with 28 assists.
Spain's victory pushed them to the World Cup semifinals to face the winner of the game between Australia and the Czech Republic. Coach Scariolo's squad have looked mighty strong so far, underscored by their Second Round win over Serbia and this Quarter-Final triumph over upstarts Poland.
Poland's fairy tale run has come to an end, but people will remember them as the Cinderella squad of this entire competition. This generation has put Polish basketball on the map, and everyone has taken notice.
"It's a great feeling to be in the top four of the world in such a demanding competition with so many great teams. It's a great feeling," said Spain head coach Sergio Scariolo.(FIBA)