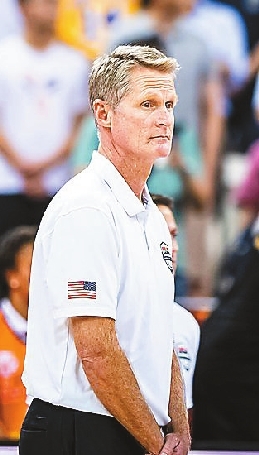 AT the time of his first trip to the FIBA Basketball World Cup, USA assistant coach Steve Kerr was a 20-year-old student at the University of Arizona. Though he would gain fame in a 15-year NBA career that earned five titles, he was still an amateur when he traveled to Spain for the 1986 tournament.
Speaking to FIBA in Shanghai, Kerr recalled, "It was an amazing experience. It was my first experience with international basketball at a high level."
Their first-round games were played in Malaga where the USA would win all five games. The next round was tougher, opening with a 74-70 loss to Argentina, before bouncing back to win the next four games. A 96-80 win over Brazil put them into the final against a far more seasoned Soviet Union side.
Even seasoned World Cup watchers may not recall that Kerr, the fourth leading scorer for the U.S., didn't play in the final. He wasn't even in Spain. Against Brazil in the semifinal four days earlier, where he had 14 points with less than half of the fourth quarter to play, his tournament ended.
"It was a great experience until I tore my knee up in the semifinals against Brazil."
When the USA took the floor against the Soviet Union, Kerr was already home prepping for surgery.
The USA won 87-85.
It would be the last American men's senior team composed strictly of amateur players to capture a gold medal. The Soviet team would gain revenge at the 1988 Olympic Games in Seoul. A team of collegians would finish third at the 1990 World Cup and 1992 in Barcelona would herald the Dream Team as the Americans went professional.
"I was lucky. It was right on the borderline of when they started to have success. Our team doctor at Arizona told me, 'We can fix you up and you'll be alright in a year.' So, I redshirted and came back for my senior year and 15 more."
Over his decade and a half on the NBA courts, he collected a full handful of championship rings. As an NBA head coach at Golden State, he has mentored other U.S. stars including Stephen Curry, Klay Thompson, Draymond Green and Kevin Durant.
And now he is on the bench in China with Team USA, looking to do his part and assist on another World Cup trophy.
As for being on the other side of the competition this time, "It's a lot different but still really enjoyable to experience something different from what I'm used to in the NBA. Meeting a group of guys who I didn't know before. The only player I really knew is Harrison Barnes because I coached him. The rest I'm really meeting for the first time."
"I'm getting to watch Pop [USA coach Gregg Popovich] up close for the first time. I played for him but I've never coached with him. The experience has been fantastic."(FIBA)