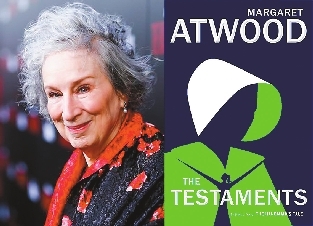 CANADIAN author Margaret Atwood said a deterioration in women's rights in some parts of the world including in the United States prompted her to write a sequel to her best-selling 1985 novel "The Handmaid's Tale."
The novel, made into an award-winning television series in 2017, presents a totalitarian future in the state of Gilead, where the few remaining fertile women are forced into sexual servitude as "handmaids" to repopulate a world facing environmental disaster.
"For years and years people were saying will there be a sequel, please write a sequel, tell us what happened, and I always said I can't do that," Atwood told British broadcaster the BBC in an interview.
"But then a couple of things happened. Instead of going away from Gilead as I thought had been happening in the 1990s, we started going back towards Gilead in a number of places in the world including the United States."
Fans gathered in London at midnight Tuesday to hear Atwood read from her new book "The Testaments," hailing it as a timely and necessary response to an increasingly menacing world for women.
"The Testaments" has already landed Atwood a nomination for one of the publishing world's top accolades, the Booker Prize. (SD-Agencies)