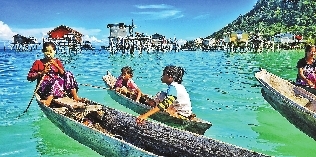 ABOUT a third of outbound Chinese travelers opt for island destinations, according to a report by the International Islands Tourism Conference in Zhejiang Province's Zhoushan in late August.
That's as outbound travel from China increased nearly 15 percent to 150 million visits.
About 70 islands in China and overseas have become major destinations for Chinese, the report says. Over 40 percent of them generate at least a fifth of their GDP from tourism.
"Island tourism enables people to enjoy nature and improve health," Zhejiang's vice-governor, Cheng Yuechong, told the conference hosted by the Ministry of Culture and Tourism, and Zhejiang's government.
Tourism industry players from 24 countries and regions attended the conference to discuss cooperation and seek ways to better tap islands' potential.
"We hope to strengthen exchanges with well-known island destinations around the world and jointly develop a high-quality island-tourism industry," Cheng says.
A total of 21 project agreements, involving nearly 50 billion yuan (US$6.9 billion), were signed at the conference.
They included island parks in Zhe-jiang and culture-and-tourism projects between China and other countries.
Italy's Sicily and Sardinia, Indonesia's Java and Bali, China's Hainan, Sri Lanka, Singapore, the Philippines' Luzon, South Korea's Jeju and Thailand's Koh Samui are ranked among the top 30 island destinations in terms of tourism competitiveness, according to a list of 171 islands compiled by the China Tourism Academy.
Tourism potential has also enticed Chinese islands to take action.
China has over 6,500 islands larger than 500 square meters, with many featuring mountain scenery, biodiversity, and historical and cultural sites.
Some of the most popular island destinations in China last year were in such provinces as Fujian, Jiangsu, Hebei, Guangdong, Zhejiang, Shandong, Hainan, and Liaoning, the Guangxi Zhuang Autonomous Region and Shanghai, the China Tourism Academy reports.
The country's coastal tourism's added value reached 1.61 trillion yuan in 2018, up 8.3 percent compared with the previous year, the Ministry of Natural Resources says. (China Daily)