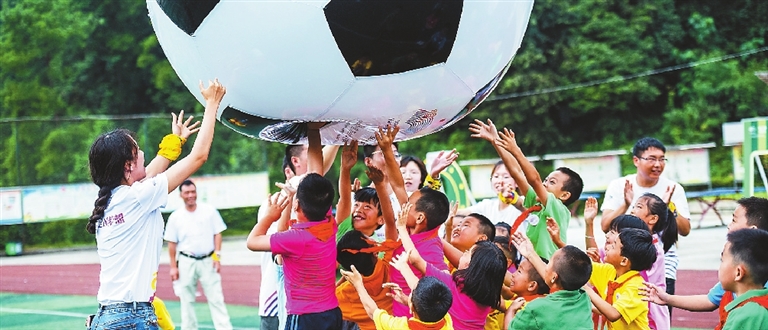 THE International Conference on the Prevention of Child Abuse and Neglect kicked off in the Omani capital Muscat on Sunday under the theme "Towards a Better Future for Children" with 400 participants from 35 countries and regions.
In its sixth edition, the conference focuses on social networking, the Internet and children, abuse, bullying, neglect, and the serious incidents that can result from these phenomena.
The conference discussed strategies to end violence against children, stop bullying among students and start national child protection legislations.
Mona Fahad Al Said, chairperson of the organizing committee of the conference, stressed that the conference seeks to determine a future plan for protecting children from the dangers of abuse.
IN China, since the inception of the Law on the Protection of Minors in 1991, the government has increasingly emphasized child protection development through the promulgating of domestic legislation on child protection and establishing relevant policies and goals.
The latest strive toward these goals is a set of draft rules that contain stronger protection guidelines for toddlers and improved governance of childcare services released recently by the top health regulator.
A blacklist of institutions and individuals who have mistreated infants and young children will be established and violators will be banned from the childcare sector, according to the draft rules published by the National Health Commission, which just ended its open inquiry for public feedback in August.
The draft, which will apply to nurseries looking after children under 3 years of age, requires that surveillance and alarm systems operate around the clock in all areas children frequent.
The proposed rules come as the country's booming child care sector has been rocked by a string of child abuse scandals in preschools in recent years, which have prompted strong calls for improved oversight of the industry.
One high-profile case involved a day care center in Shanghai owned by travel service provider Ctrip. Eight employees were detained in November 2017 for physically abusing toddlers at the center and rubbing wasabi on their mouths and hands to intimidate them. They confessed to the offenses in court in September.
The new draft aims for a zero tolerance policy against assault toward children and calls for the enhancement of legal awareness among staff members at nurseries.
To protect children from violence and abuse, China is overseeing the training of more child welfare directors and strengthening its child welfare system.
Despite the progress it has made in child welfare, China's systems have developed unevenly, with effective child services unavailable to children in remote areas in Central and West China.
Building a professional child welfare protection system remains a priority for China, according to a report by the China Philanthropy Research Institute in Beijing.
The Ministry of Civil Affairs has since 2010 worked with UNICEF, piloting the Barefoot Social Worker project to help children in villages affected by violence and abuse.
The network of so-called child welfare directors, also known as Barefoot Social Workers, consisted of about 665,000 individuals by the end of 2018. Among them, 45,000 serve in townships and subdistrict administrative units, while 620,000 are in villages, according to the ministry.
Cynthia McCaffrey, UNICEF's representative in China, said that investing in training and support for these directors has had a significant impact.
"UNICEF, with the government of China, provides basic knowledge about the importance of child welfare and a holistic approach to child development. This includes how one safely stimulates a child and gives care, nutrition, love and companionship, making sure they understand those important elements that help children to develop and to be safe and happy," she said.
Chinese experts are also working on protecting children from online abuse and accelerating legislation for the protection of minors online. This includes preventing personal information disclosure, Internet addiction, Internet violence, and the influence of illegal and harmful information.
According to a report released in March by the Central Committee of the Communist Youth League and China Internet Network Information Center, China is home to more than 169 million child Internet users, and the Internet penetration rate among juveniles has reached 93.7 percent.
Wang Weiguo, deputy director of the office of National Working Committee on Children and Women under the State Council, said that the Internet has overridden the conventional ways of protecting children.
Without proper protection, children may be under threat of network violations, adverse information influence, personal privacy disclosure and addiction, Wang said.
A report issued by the Renmin University of China last June showed that 85 percent juvenile offenders have an Internet addiction.
The national working group for combating pornography and illegal publications in 2018 ordered over 20 education apps to rectify or stop operations, a number of which contained indecent and sexually suggestive content.
China is also accelerating the development of the rule of law for the protection of children online.
The Law on Protection of Minors is slated for revision, while the drafting of the State Council Regulation of Online Protection of Minors is under way. The Rules on Children's Personal Information Protection Online were also recently published.
McCaffrey stressed the significance of integrated efforts to give children a safe online environment.
"Child online protection is a key issue in both domestic and international internet governance. We highly commend the Chinese Government's continuous efforts in child protection," she said. (Xinhua-China Daily)