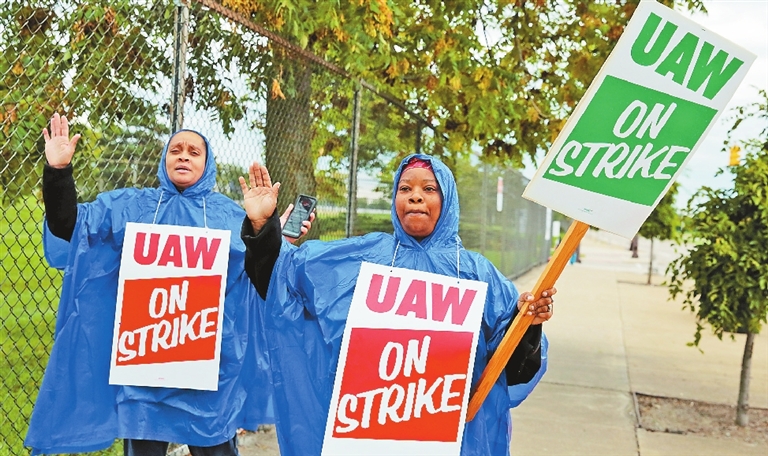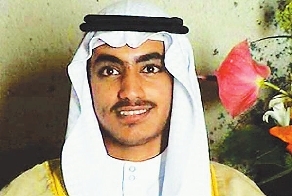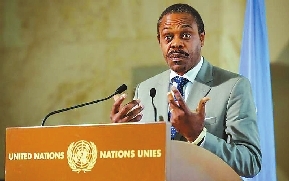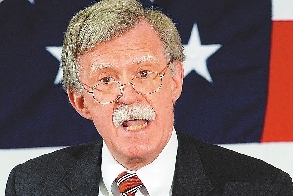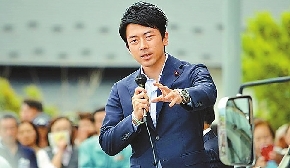 Auto workers strike against GM in contract dispute
Auto workers carry strike signs outside the General Motors Detroit-Hamtramck assembly plant in Detroit, Michigan, the United States, on Monday. More than 49,000 members of the United Auto Workers walked off General Motors factory floors or set up picket lines on early Monday as contract talks with the company deteriorated into a strike. SD-Agencies
US confirms death of bin Laden's son
U.S. President Donald Trump on Saturday confirmed the death of Hamza bin Laden, the son of Osama bin Laden who had emerged as a high-profile member of al-Qaida.
Trump said in a statement released by the White House that bin Laden was killed in a U.S. counterterrorism operation near the Afghanistan-Pakistan border, though he did not provide an exact date for the death.
"The loss of Hamza bin Ladin not only deprives al-Qaida of important leadership skills and the symbolic connection to his father, but undermines important operational activities of the group.
DR Congo ex-health mini-ster arrested
Former DR Congo health minister Oly Ilunga has been arrested over allegations he embezzled public funds to tackle the Ebola epidemic, police said on Saturday.
Ilunga, who resigned as health minister in July after being removed as head of the country's Ebola response team, was detained while hiding in an apartment in the capital Kinshasa ahead of a bid to flee the country, officers said.
He is in custody due to "misdemeanors* of the mismanagement of funds allocated to the Ebola response," police spokesman Colonel Pierrot-Rombaut Mwanamputu said.
Trump ousts top adviser John Bolton
U.S. President Donald Trump has fired his national security adviser, John Bolton, in a pair of tweets in which he laid bare searing* internal divisions within his inner circle, saying he had "disagreed strongly" with his top aide.
The departure of such a resolute hawk raises the possibility that Trump's foreign policy could now make a dovish turn in the run up to next year's elections, in particular with respect to Iran.
Abe drafts rising star, allies in Cabinet reshuffle
Japanese Prime Minister Shinzo Abe drafted the popular son of charismatic ex-premier Junichiro Koizumi in a broad Cabinet reshuffle last week that kept allies in key posts, as Abe faces a tax rise and aims to amend the pacifist constitution.
Shinjiro Koizumi, Abe's new environment minister, regularly tops lists of lawmakers whom voters favor to succeed to the nation's top job.
DPRK: Upcoming negotiation with US 'decisive'
The Democratic People's Republic of Korea (DPRK) on Monday welcomed the upcoming working-level negotiation with the United States.
In a statement released by the official Korean Central News Agency (KCNA), the director general of the Department of U.S. Affairs of the Foreign Ministry said the DPRK-U.S. dialogue has two options, either improve the relations or add to the hostility toward each other.
"In this sense, the upcoming working-level negotiations will be an occasion decisive of the future road of the DPRK-U.S. dialogue," the unnamed official said.(SD-Agencies)