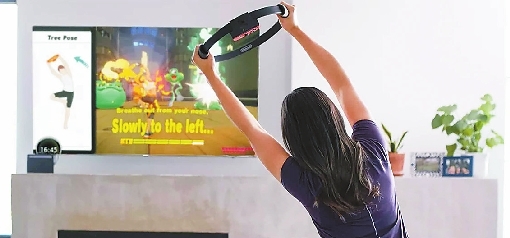 任天堂发布《健身环大冒险》
Nintendo has unveiled "Ring Fit Adventure," which is sold with a squeezable electronic ring that senses pressure.
In "Ring Fit Adventure," you play a jogger who discovers a magical ring and squeezes it, accidentally releasing a monstrous dragon that's very in shape*. The dragon, aptly named Dragaux, taunts* you and then disappears.
The objective is to complete different physical challenges, from a range of squats, yoga poses, running, high knees* and more, to finally confront the dragon at the end of the game. Nintendo said that the game "is meant to fit into busy lifestyles" with short sessions to be played over several months but that playtime will differ for individuals.
The main difference with "Ring Fit Adventure" and Nintendo's past fitness products is that "Ring Fit Adventure" promises an adventure game with a storyline.
The "Ring Fit" game launches on October 18 and will be sold with the ring and a leg strap. The game and accessories cost a combined US$79.99. The game runs on the original Nintendo Switch, which must be purchased separately and retails for US$300. (SD-Agencies)