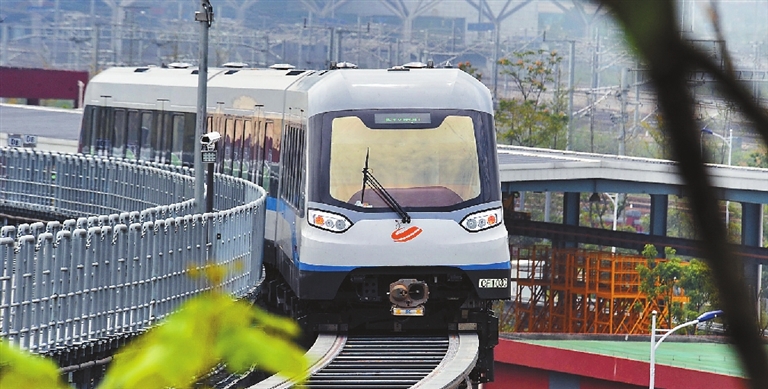 TECHNICIANS are busy examining a new magnetic levitation (maglev) train prototype in a factory in Zhuzhou, Central China's Hunan Province.
Zhuzhou, a city known as a forerunner of China's rail transit manufacturing industry, is fostering the innovation and production of maglev trains.
"We have been pursuing independent research into maglev technology and manufacturing maglev trains with our own intellectual property rights," said Zhou Qinghe, president of CRRC Zhuzhou Locomotive Co. (ZLCL), a rail transit equipment maker and a subsidiary of China Railway Rolling Stock Corp. (CRRC).
The company unveiled the key components of its maglev train with a designed speed of 600 kph in Hunan on Tuesday.
Key parts of the train's power system include a long stator linear motor and two transformers.
He Yunfeng, an official of the company, said that different from traditional electrical motors, the long stator linear motor features a simple structure, strong climbing ability, low noise, low energy consumption, and quick start and stop.
The long stator linear motor plays the role of the "heart" of the high-speed train, and the transformers provide a constant and stable direct current power for the linear motor, like a "blood supply system."
Shanghai saw China's first commercial maglev system, a 30-km stretch between the downtown area and the city's Pudong airport, which was put into operation in 2003. But the system was based on German maglev technology.
Fully supported by its own technology, China's first medium- and low-speed maglev line with a design speed of 100 kph started operation in May 2016 in Changsha, Hunan Province.
As of the end of August, the Changsha maglev line had operation mileage of 3.07 million km and has transported more than 10 million passengers.
According to Tong Laisheng, head of the maglev research institute of the CRRC ZLCL, they have been aiming for new breakthroughs and more advanced versions of commercial maglev trains.
The 2.0 version of the maglev, with a design speed of 160 kph, is being tested, and a more advanced driverless maglev train with a top speed of 200 kph is being developed, Tong said.
"The driverless version can climb to the height of a four-story building in 100 meters, just like a roller coaster. It will be equipped with a communication-based train control system that combines big-data analysis, realizing the real-time diagnosis of trains, maglev tracks and power supply," Tong said.
Liu Youmei, an academician of the Chinese Academy of Engineering, said China has mastered the key and core technology for commercial maglev trains and established a system with intellectual property rights, ranging from research, manufacturing, test verification to commercial operation.
China has seen a rapid development of rail transit in recent years with its fast urbanization progress.
Statistics from the China Association of Metros showed that a total of 37 cities on the Chinese mainland had rail transit systems in operation as of June 30, with a total length of 6,126.82 km.
China's urban rail transit systems have not only achieved rapid growth in scale but also in high-quality development, said Xie Zhengguang, president of the association.
Tong is confident about the prospects of maglev trains as they offer an alternative to traditional rail and subway systems, which have their own advantages in urban transit.
Maglev trains, which have no wheels, create less noise since wheel-rail friction is removed. Their minimum turning radius is also half that of a subway, allowing it to better bypass buildings in route planning and avoid relocations, Tong said.
It is also more economical as the comprehensive cost per kilometer is only about one-third of a subway and three-quarters of a light rail, Tong added.
Some Chinese cities such as Qing-yuan in Guangdong Province have started maglev line projects, and more cities such as Chengdu in Si-chuan Province and Jinan in Shandong Province are adding maglev lines to their transportation plans to connect city clusters and boost regional integration.
"More than 200 delegations from 35 countries and regions have come to Hunan Province to investigate our maglev lines. We will take into consideration the characteristics of different places and design customized maglev trains in the future," Tong said.
Zhou said the fast development of maglev trains is expected to foster a strong industrial chain.
"More than 90 percent of the 10,000 types of components used in the medium-speed and low-speed maglev trains are now purchased in China, which will bring new opportunities to many relevant industries including machinery, electronics and new materials," Zhou said.
Apart from the commercial operation of medium- and low-speed maglev lines, China is fostering research on more maglev train variants. A prototype of the high-speed maglev train with a designed speed of 600 kph was unveiled in Qingdao, Shandong Province in May. The engineering prototype is scheduled for 2020 and is expected to finish integrated verification in 2021.
CRRC Qingdao Sifang Co., the train builder, has cooperated with more than 30 companies, universities and research institutions in the project.
Ding Sansan, deputy chief engineer of the company, said the development of high-speed maglev trains entails several sub-systems including locomotive vehicles, traction, operational control and communication.
CRRC Zhuzhou Electric Co. has developed the long-stator linear traction motor for the 600 kph maglev train prototype, dubbed as the "heart" of the train.
The National Innovation Center of High-Speed Train located in Qingdao has initiated the projects at high-speed maglev experimental and test centers to facilitate research and production.
In October 2020, the 25th International Conference on Magnetically Levitated Systems and Linear Drives (MAGLEV 2020) will be held in Changsha.
"China's maglev technology and the industry are increasingly recognized by its international counterparts," Zhou said.
(Xinhua)