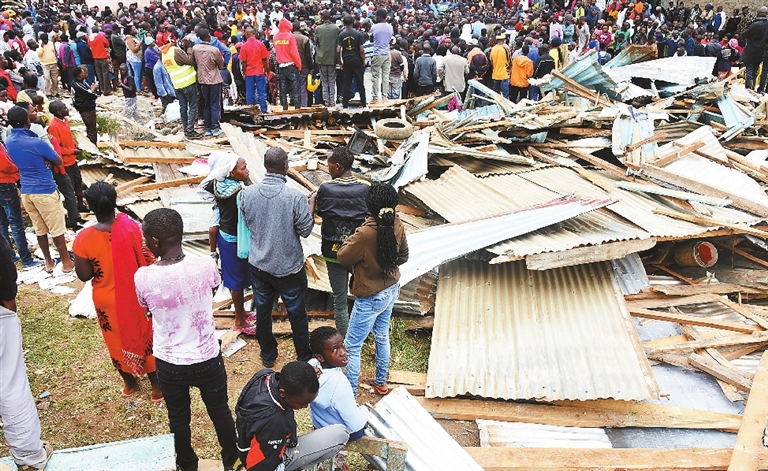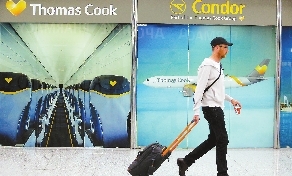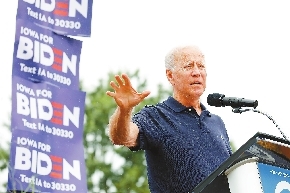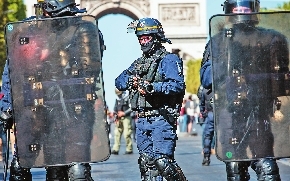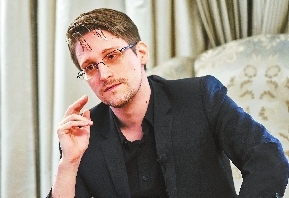 Kenya classroom collapse kills 7 children
People stand at the scene where a classroom collapsed in Nairobi, capital of Kenya, on Monday. Seven children were killed and at least 57 injured on Monday when a classroom collapsed in Kenya's capital Nairobi, officials said.
SD-Agencies
Travel giant collapses, stranding tourists
British travel group Thomas Cook on Monday declared bankruptcy after failing to reach a last-ditch rescue deal, triggering Britain's biggest repatriation since World War II to bring back stranded passengers.
The 178-year-old operator had been desperately seeking 200 million pounds (US$250 million) from private investors to save it from collapse.
"Despite considerable efforts, those discussions have not resulted in agreement between the company's stakeholders and proposed new money providers," Thomas Cook said in a statement.
Biden blasts Trump following Ukraine accusations
Allegations that U.S. President Trump courted foreign interference from Ukraine to hurt his leading Democratic rival, Joe Biden, dominated presidential politics on Saturday, as Biden demanded a House investigation of Trump's phone call with Ukraine's leader.
With Trump seizing on a familiar defense, saying Democrats were undertaking a "witch hunt*" against him, Biden called on the House of Representatives to begin a new investigation of whether the president sought the interference of a foreign government to bolster his re-election campaign.
137 arrested as 'Yellow Vest' renews in Paris
French police had arrested more than 130 individuals in Paris, as "Yellow Vest" protests against President Emmanuel Macron's fiscal policy hit streets again on Saturday.
Citing the Paris police department, BFMTV news channel said 48 of the individuals detained remained under police custody.
They were suspected of committing violent acts in the fringe of the fresh rally. Police found in their bags materials that could be used as projectiles*, including stones, slings* and hammers, the report added.
US sues Snowden for violating non-disclosure deal
The U.S. Department of Justice filed a lawsuit against NSA whistleblower* Edward Snowden on September 17 for failing to submit his book to the government for clearance.
"Edward Snowden has violated an obligation he undertook to the United States when he signed agreements as part of his employment by the CIA and as an NSA contractor," Assistant Attorney General Jody Hunt said.
2 dead, 8 wounded in South Carolina bar shooting
Two men were fatally shot on early Saturday at a South Carolina sports bar in the United States and eight other people were wounded in the gunfire, authorities said. A suspect was being sought.
The shooting occurred in Lancaster, a community about 72 kilometers south of Charlotte, North Carolina. Coroner Karla Deese told news outlets that the dead have been identified as Henry Lee Colvin, 39, of Rock Hill, South Carolina, and Aaron Harris, 38, of Kershaw, South Carolina.(SD-Agencies)