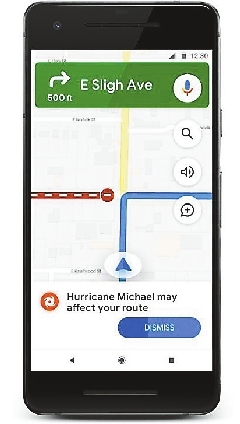 谷歌地图添加灾害预警功能
Google Maps is getting a new feature that will help users avoid natural disasters. The update, which is part of Google's SOS Alerts, will provide up-to-date information about hurricanes, earthquakes and flooding.
Google's SOS Alerts already provide users with warning information about disasters, as well as important telephone numbers and updates from local officials. But this new update will automatically give you a special warning card on the phone screen alerting you about the location of an upcoming or recent disaster.
In the case of a hurricane, the feature will provide you with an alert that you can tap on to reveal a detailed look at the storm's potential path of travel. The path mapping will also give you times and dates for when the storm is expected to reach certain regions.
Earthquakes, which are notoriously difficult to predict, will get a different treatment. Rather than providing a projected range for the earthquake's impact, a Google card will pop up after the quake to give users a sense of how far the shaking was felt.(SD-Agencies)