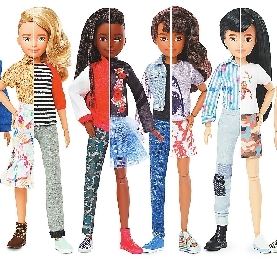 MATTEL, the company that invented the Barbie doll 60 years ago, just announced its toys are about to become much more inclusive. On Wednesday, the company introduced the Creatable World line, a collection of gender-neutral dolls that are totally customizable and give kids the freedom to make their dolls look like whatever they want. Basically, this is such good news for anyone who has ever looked at a classic Barbie doll and didn't see themselves represented.
In a statement, the company said the new collection was created "to keep labels out and invite everyone in" and added that the "dolls are as limitless as the kids who play with them."
To make sure more kids feel included and represented, Mattel designed six toy kits that come in a variety of skin tones and have interchangeable short and long wigs, different pieces of clothing, multiple shoe options, and accessories that are female- and male-presenting. Also, the dolls don't have the standard Barbie and Ken body types that have been used for so many years.
Judging by the reactions on Twitter, people are pretty excited about these new dolls. One Mattel follower wrote, "I'm sitting here crying. I wish these had been available for my children when they were little, and even now that they are adults, I want to give them each one so much. And! All those points of articulation. They are beautiful."
And when one person said they hope Mattel will come out with more clothing and wig options, the company's Twitter account responded and teased, "This is just the beginning."
The dolls sell for US$30. (SD-Agencies)