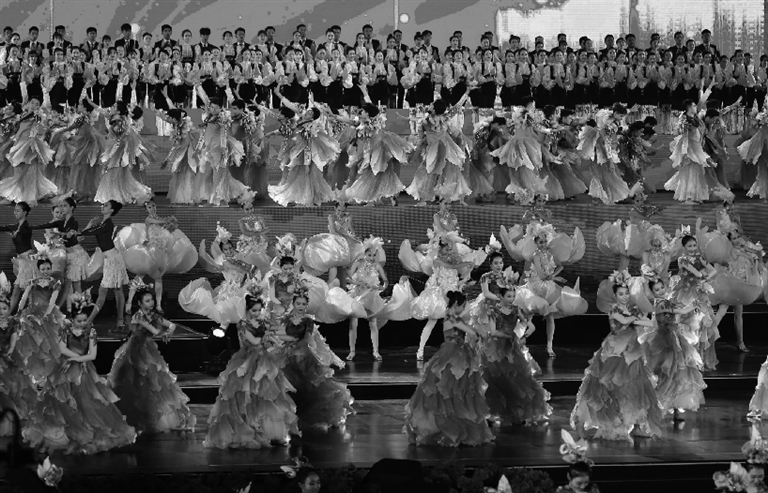 Han Ximin
ximhan@126.com
AN evening party was held at Shenzhen Talent Park yesterday to celebrate the 70th anniversary of the founding of the People's Republic of China (PRC).
The 90-minute party was presented with different art forms, such as songs, dances, operas and plays.
It was preluded with a chorus singing a series of classic songs expressing Shenzhen's greetings and blessings to the motherland.
Around various themes, such as Charm of Greater Bay Area (GBA), New Era and Blessing Motherland, the party featured the participation of the general public as well as some well-known singers and dancers.
A grand dance performance by Shenzhen Grand Theater displayed the history of Shenzhen, from a border town of 20,000 people to a metropolis of more than 10 million, and its great changes over 40 years.
"The party is highlighted with performances by arts groups from the society. A total of 3,000 performers from 42 arts groups were involved in the performances. This is the largest evening party celebrating the National Day holiday in Shenzhen's history," Zhan Xiaonan, director of the evening party, said in an interview.
"Through the platform (the evening party), we hope to present the excellent arts products that Shenzhen has accumulated in recent years," said Zhan.
The evening party featured mass participation, a festive mood and the charisma of the GBA as well as the application of technologies.
"We presented a performance of square dances we created, showing the sunshine, and healthy and happy lives of ordinary people," said Li Ying, head of the training department of the Luohu Culture Center.
Besides performances by social arts groups, opera artists and choruses from Guangdong, some well-known artists from Hong Kong and Macao jointly presented classic Canton Opera songs and popular songs known to households, such as "Oriental Pearl," "The Song of Seven" and "The Song of Yangtze River."
The song of "My Chinese Heart" by singer Zhang Mingmin brought the enthusiasm of audience to a climax. With this song, Zhang, a singer from Hong Kong, became well-known to the mainland in 1984.
"Through the cooperation with Zhang, we hope to highlight the idea of shared prosperity in the Greater Bay Area," said Xia Feng, chief director of the evening party.
"For the evening party, we don't invite pop stars and keep thrifty. Regarding age, the performers range from 4 to 5 years old to over 70," said Xia.
During the National Day holiday, more than 80 art carnivals showcasing different art forms will be held by different art groups and clubs in Shenzhen to celebrate the 70th anniversary of the founding of the PRC.