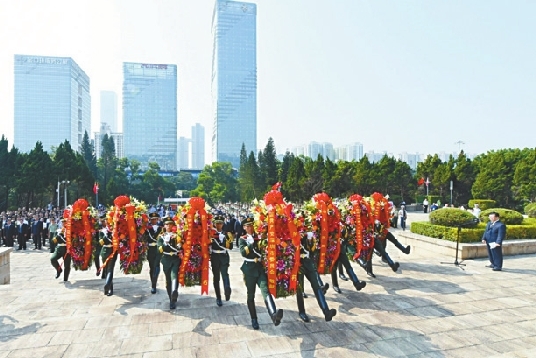 A PUBLIC mourning activity, featuring a ceremony presenting flower baskets to deceased heroes, was held at Shenzhen Revolutionary Martyrs Cemetery yesterday, Martyrs' Day.
Wang Weizhong, Shenzhen's Party chief, Chen Rugui, mayor of Shenzhen, Luo Wenzhi, director of the Standing Committee of the Shenzhen Municipal People's Congress, and Dai Beifang, chairman of the Shenzhen Municipal Committee of the CPPCC, and some 500 representatives from all walks of life attended the ceremony.
When the ceremony started at 9:30 a.m., all the participants sang the national anthem and then paid a silent tribute to those who devoted their lives to the independence and rejuvenation of the nation, liberation and happiness of the Chinese people and construction of the People's Republic of China, which was founded in 1949.
After a chorus of the song "Young Chinese Pioneers," honor guards laid flower baskets in front of the monument, and city leaders Wang Weizhong, Chen Rugui, Luo Wenzhi and Dai Beifang walked forward, straightened the red ribbons on the baskets and led the participants in a walk around the monument to pay tribute.
The other attendees also laid flowers at the foot of the monument.
The ceremony was presided over by Vice Mayor Huang Min.
Also at a ceremony yesterday, the Shenzhen Municipal Public Security Bureau presented flower baskets to 76 police officers who had given their lives in the line of duty since the establishment of Shenzhen. (Han Ximin)