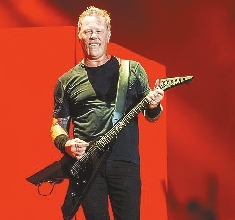 Surgery
RUBY ROSE has undergone emergency surgery after a serious injury left her at risk of being paralyzed, the actress and model said on Instagram. The "Orange Is the New Black" star documented the experience and, to some viewers' horror, it includes graphic video of her surgery. Rose said she herniated two discs while performing stunts a couple months ago. The injury came close to severing her spinal cord, leaving her in "chronic pain" and unable to feel her arms. She is set to debut as "Batwoman" in The CW series which premieres Oct. 6.
Rehab
METALLICA says its frontman James Hetfield has entered rehab, and the band is canceling its upcoming tour in Australia and New Zealand. Three of the heavy metal band's members posted a statement on Twitter on Friday announcing the decision and apologizing to fans. The statement by drummer Lars Ulrich, guitarist Kirk Hammett and bassist Rob Trujillo says anyone who purchased tickets for the remaining show dates will receive automatic refunds. The band had been scheduled to play five Australian cities from Oct. 17-29, followed by four shows in New Zealand.
Tour
TAYLOR SWIFT, Lizzo, Billie Eilish and BTS are set to perform on the iHeartRadio Jingle Ball Tour this holiday season. IHeartMedia announced Friday that the 12-city tour kicks off Dec. 1 in Tampa, Florida. The lineup, which varies by city, also includes Lil Nas X, Sam Smith, Camila Cabello, Khalid, Halsey, Katy Perry and the Jonas Brothers. The tour will visit Inglewood, California; San Francisco; Philadelphia; Boston; Washington, D.C.; Chicago and Atlanta. The tour wraps Dec. 22 in Fort Lauderdale, Florida.
Trailer
AN alien invasion has struck England in the first trailer released Sunday for the BBC's upcoming adaptation of H.G. Wells' sci-fi novel "The War of the Worlds."
Set in Edwardian England, the series is directed by Craig Viveiros and stars Eleanor Tomlinson, Rafe Spall, Robert Carlyle and Rupert Graves. The story follows the attempt by one couple, played by Spall and Tomlinson, to escape the ruthless Martians who are determined to destroy all human life as they endeavor to conquer the planet.(SD-Agencies)