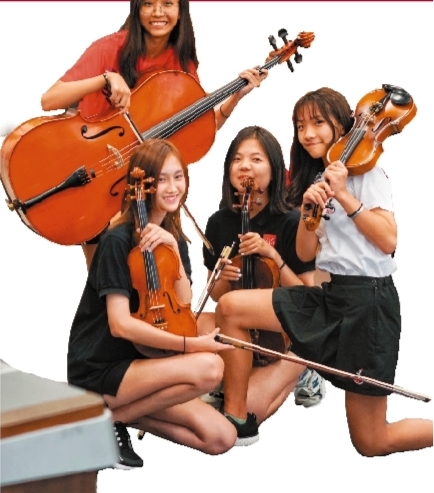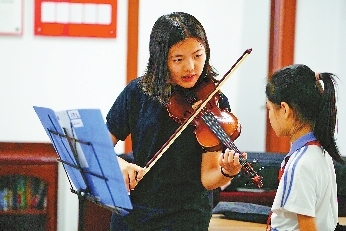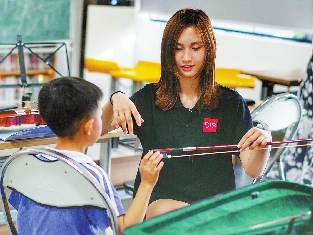 SIS学生乐队成员: 走进4:30社区课堂, 用音乐启发梦想
Wang Haolan
Holly_cn@163.com
After 4:30 p.m. every Thursday, the silky tones of stringed musical instruments being played — though sometimes out of tune and offbeat — flow out from the Nanyuan Community of Nanshan District, where extracurricular music lessons were given to migrant children by members of the Strings Initiative with Shekou International School (SIS).
Hedy Kwon, Jessie Park and Soeun Kim from South Korea, as well as Tia Ching from China, who are all Grade 9 students and string players with the orchestra at SIS, initiated the project under the instruction of Vanessa Coetzee, a middle and high school instrumental music teacher at SIS.
A group of elementary children learned to play "Twinkle, Twinkle, Little Star" on the violin, viola and cello on the last Thursday before the National Day holiday. Clock hands ran so fast during the 30-minute lesson that the kids were reluctant to leave even after the lights were turned off.
"The kids had never played stringed instruments before, so we have to start from teaching them how to unpack and take good care of their instruments to how to play in the right posture, and earlier this year we moved on to concrete musical parts like what 'do,' 're' and 'mi' are," said Park.
"They are small, sometimes naughty, and struggled to concentrate on playing instruments at the beginning. Thirty minutes' teaching every Thursday is not quite enough for them to pick up a musical skill. So, we gave them some chocolates or candy as a treat and fortunately it has worked out," said Ching.
Ching and other Chinese members of the project also interpret for both their expat peers and the children during the lesson.
"I have also picked up a lot of Chinese," joked Park.
Even though the young teachers have undertaken intensive stringed-instrument practice since elementary school, they don't believe it's necessary to include assessments in these classes and avoid putting stress on their migrant students.
"We just want to help them enjoy music and consider it a hobby," explained Kwon.
According to Coetzee, the kids may have a chance to stage a concert at SIS in the future.
Launched just last year, this project is centered on "quality education," one of the 17 Sustainable Development Goals of the United Nations. It has partnered with the 4:30 community school supported by SIS and the IKEA afterschool care center to give volunteer music lessons. All the instruments used in the lessons are donated by SIS.
"The project unfolds a new perspective for learning to the migrant kids. It also teaches empathy and humility to our students and lets them learn how can they make a difference in the community," said Coetzee.
The dual identity of student and teacher also helps the girls to reflect on what they have learned so far. "It's like a throwback to the times when we were all musical newbies. Only when the pillar of our basic skills is strong enough can we better teach the kids," said Kwon.
"We learned the patience of waiting for kids to improve. Last year, one girl I taught couldn't even hold the bow correctly; now she can do it well," said Kim.