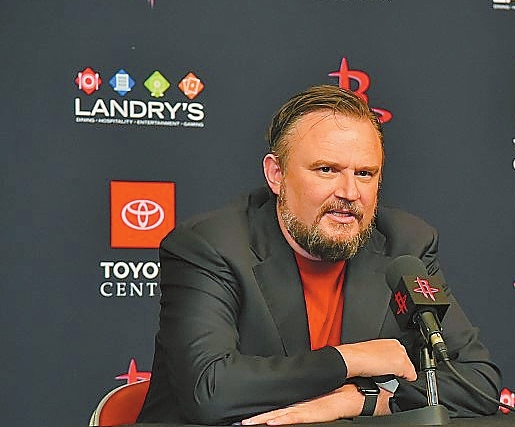 THE National Basketball Association (NBA) on Sunday made an official response to Houston Rockets General Manager Daryl Morey's improper tweet over China's Hong Kong Special Administrative Region (HKSAR) as NBA commissioner Adam Silver said Monday that they are supporting Morey.
"There is no doubt, the economic impact is already clear," NBA commissioner Adam Silver told reporters in Tokyo on Monday. "There have already been fairly dramatic consequences from that tweet, and I have read some of the media suggesting that we are not supporting Daryl Morey, but, in fact, we have.
"I think as a values-based organization that I want to make it clear … Daryl Morey is supported in terms of his ability to exercise his freedom of expression," Silver continued.
"The fact we have apologized to fans in China is not inconsistent with supporting someone's right to have a point of view."
The league's Chief Communication Officer Mike Bass said Sunday that Morey's post has "deeply offended" the Chinese people and it was "regrettable," but made no apology.
"We recognize that the views expressed by Houston Rockets General Manager Daryl Morey have deeply offended many of our friends and fans in China, which is regrettable. While Daryl has made it clear that his tweet does not represent the Rockets or the NBA, the values of the league support individuals educating themselves and sharing their views on matters important to them. We have great respect for the history and culture of China and hope that sports and the NBA can be used as a unifying force to bridge cultural divides and bring people together," said Bass in the statement, which did not include an official apology.
Houston Rockets star James Harden on Monday apologized to China over the tweet by the team's general manager backing Hong Kong's protests.
"We apologize. We love China," Harden said, standing alongside fellow Rockets guard Russell Westbrook in Tokyo, where the team is playing two exhibition games this week.
Meanwhile, Morey posted two tweets, claiming that "offending or misunderstanding" Chinese fans and sponsors was not his intention. His latest posts did not include an apology either.
According to John Gonzalez of The Ringer, the Rockets are mulling over Morey's employment status and whether to replace him or not. Considering that China is one of the NBA's largest business partners, it is understandable that one source told The Ringer the incident was "not a small thing" while another termed it "an epic screw-up." (SD-Agencies)