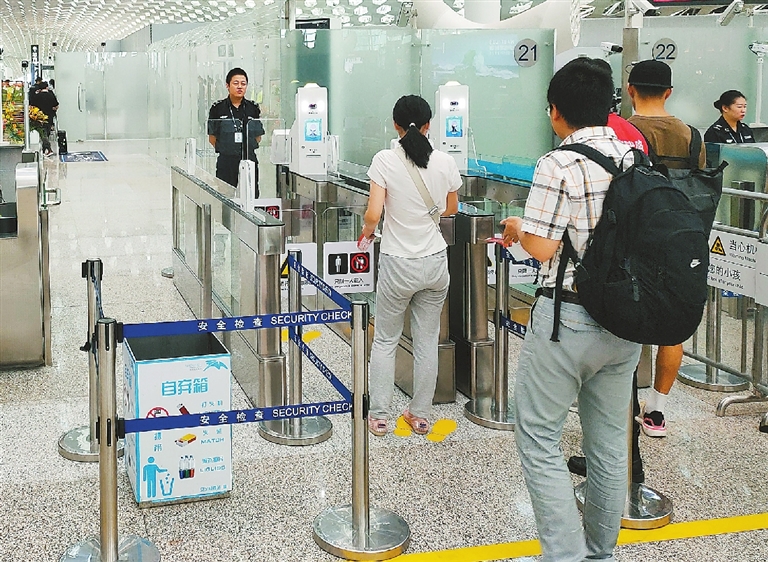 Han Ximin
ximhan@126.com
FOUR smart passages that offer self-service security checks supported by facial recognition technology for passengers departing from Shenzhen International Airport went into operation yesterday.
The passages in the domestic departure area are equipped with self-service ID verification gates, facial recognition systems, luggage carousels, double-source X-ray machines, millimeter-wave human scanning devices and luggage recheck stations.
Compared with traditional security checks, passengers can be identified automatically using the facial recognition and ID verification systems, without having to undergo additional checks by inspectors. The passenger-luggage matching system prevents passengers from mistakenly taking the carry-on luggage of other passengers.
The airport has deployed employees to guide passengers in completing the safety checks.
According to the airport, a smart passage can process 220 passengers an hour during peak hours, which is 50 percent faster than manual checks.
The smart security check service is one of the measures the Shenzhen airport has introduced to become more intelligent, and is one more step toward improving services since the airport introduced "differentiated security checks" in December 2018, which directed passengers with good security records toward fast, green passages for their security checks after they entered the security check area.
The Shenzhen airport is among the first batch of airports in China to adopt smart technologies.
Beijing's Daxing International Airport, which opened at the end of last month, has been using a variety of self-service and other modern technologies, including self-service check-in, self bag drop and radio frequency identification (RFID) for baggage tracking.
The Shenzhen airport is the fifth-busiest airport in China. So far, it has launched international air routes to 47 overseas cities and the number is expected to exceed 50 by the end of this year. The total passenger volume through the airport reached 13 million in the first quarter of this year, up 7.9 percent year on year, according to the airport authority.