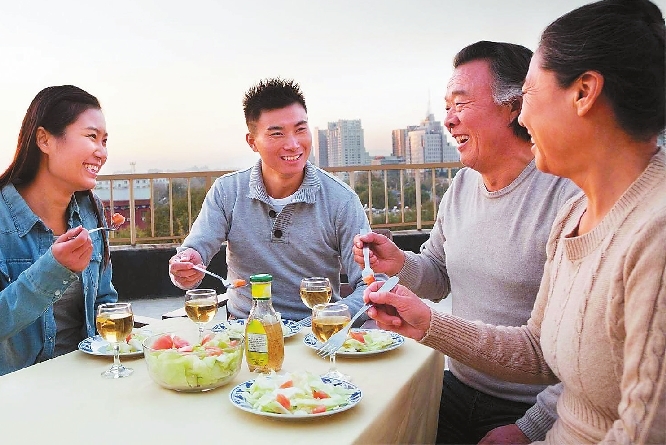 YOUR in-laws likely give you all kinds of advice. Some of it is worth keeping; and some of it — not so much. Here are what relationship experts suggest.
√Look good for one another
It may sound a bit old-fashioned, but your in-laws have a point. Ditch those sweats for that dress he adores. Put on those tight jeans she raves about. This shows that you don't take him or her for granted, even if you've been together for years. Added bonus: You'll feel more alive by taking such measures. Research on couples around the world found that the happiest couples prioritized staying attractive for each other (along with giving back rubs and having good communication). Dressing up for date night, for example, won't only be noticed by your partner but it will likely remind you of the early days when you were courting each other.
√Cook for him (or her)
You think it's crazy how your mother-in-law slaves over making dinner from scratch every night. But, she may have a point. The way to a man's heart (or to a woman's, for that matter) may be through their stomach. Make his favorite meatballs for dinner, even if you aren't a meat-eater. On Sunday morning, surprise her with your homemade waffles. "Food has long been associated with love," says Fran Walfish, a family and relationship psychotherapist.
√Compliment one another
"Too often, couples start to take for granted all the good things about their partner and complain about the flaws and friction points," says Jill Whitney, who practices in Old Lyme, Connecticut, and blogs about relationships and sexuality. "It's fine to talk about things you hope will improve, but it's essential to also give attention to all the good things about the one you love." Happy couples know how to give a sincere and genuine compliment.
√Show some PDA
You may think it's gross when your in-laws get touchy-feely, but, touch is the building block of intimacy and connection. "Touch allows for a sense of being connected and in sync with your partner," says Carla Marie Manly, a clinical psychologist. "Touch can be reassuring and affirming. A partner may feel safer when the other offers loving, supportive touch." In fact, not touching can feel to the other person like you're trying to fend them off.
√Laugh together
It's common to only discuss life's daily logistics and routines, especially when you have kids. But healthy couples laugh together, and often. It helps maintain the joy and spirit in your relationship. The average couple with kids communicates for about 10 minutes a day uninterrupted. So it's worth making time to chat, laugh, and hang out when the kid(s) are sleeping or even text during the day. It can help bond you and give you a feeling of mutual joy and understanding.
√Check in with one another
Your father-in-law can't drive to the supermarket without a call from your mother-in-law asking if he made it there OK. You don't have to communicate 24/7, but couples in healthy relationships do call or text — to show the kid's latest mess, an online joke, or for no reason at all. "Studies indicate that there has been a decline in communications between couples," says Antonia Hall, a psychologist and relationship expert. "So it's important to re-prioritize our relationships. Checking in can be a great way to do that. Use check-in time with your partner as a way to foster connectivity."
√Don't hold a grudge
You won't let it go that he was on a business trip on your birthday. He can't forget you didn't make it to his company holiday party. Not letting go of something, aka a grudge, is toxic for a relationship. Letting go of grudges isn't easy. But it's important for your own health as much as the good of your relationships.
Advice to forget:
Never fight
It's abnormal not to fight. Even happy couples have fights. Otherwise, that means one of you is too scared to bring up the subject and your issues won't be resolved. You shouldn't have to hide how you're feeling if you're in a healthy relationship. Just keep in mind the previous piece of advice after a fight: Don't hold a grudge.(SD-Agencies)