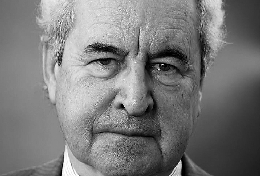 THE drama surrounding the Nobel Prize in Literature shows no signs of stopping.
The Irish Times reported Friday that prize organizers are investigating a hoax call received by Irish author John Banville, purporting to be from the Swedish Academy and "informing" him that he'd won the Nobel Prize.
It didn't seem impossible; Banville has won a number of literary prizes, including the Booker Prize, and the calls appeared to be coming from Stockholm.
Of course, at this point, we all know that Olga Tokarczuk and Peter Handke were, in fact, the winners.
And after that announcement was made, Banville received a voicemail claiming that internal tensions had resulted in Banville's prize being withdrawn and going to one of the other authors.
For his part, Banville believes that the prank was intended to reflect poorly on the Academy, rather than targeting him specifically.
He explained that on the day in question he kept his phone with him at a physiotherapy appointment in case he was called to comment on an Irish winner.
He said he received a call from a man claiming to be Mats Malm, permanent secretary of the Swedish Academy.
Banville described the caller as "very convincing" and said "who was I to disbelieve it?"
He said he was told that he had won the Nobel Prize for Literature.
"He was very convincing and read me the citation down the phone."
Banville said he learned a lot about himself in the 40 minutes afterwards, joking as a writer "all experience is material."
He said he had called everyone he knew to tell them the good news, before his daughter rang him when she heard the live announcement and he then realized it was a hoax.
Banville then received a voicemail from someone claiming to be the same man, saying there was a disagreement in the committee and it had chosen two other writers.
He said: "I assume it was someone inside the Swedish Academy who is disaffected and wanted to cause a scandal for the Swedish Academy."
He surmised that the person might have presumed he would have objected publicly to the winners as announced.
The 2018 prize was awarded belatedly this year, having been put on hold partly because of sexual harassment allegations against photographer Jean-Claude Arnault, whose wife was on the Nobel committee.
Some of the reported incidents took place occurred at properties owned by the Swedish Academy, which administers the Nobel prizes.
(SD-Agencies)John Banville
A hoaxer duped Booker Prize-winning author John Banville into thinking he'd won the Nobel Prize for Literature.
The Wexford writer received the call Thursday - just half an hour before the ceremony in Stockholm - telling him he was one of two winners.
Banville, who spent 45 minutes thinking he'd won the prestigious award, said in an interview: "I believed it. The call came from Stockholm, why would I not believe it?"
After the real winners were announced, a man claiming to be Swedish Academy secretary Mats Malm, called Banville back and left him a voicemail to tell him his award was being withdrawn.
He added: "I was disappointed of course. When you are phoned up and told you got the Nobel Prize you are not thinking straight."
The Swedish Academy has denied any involvement.
Writer John Banville has said that "for about 40 minutes I was a Nobel Prize winner" as he discussed the hoax call he received from the Stockholm Academy telling him he had won the coveted award.
Speaking on RTé's Marian Finucane programme, Mr
Banville said he believes he was not the target of the cruel hoax but instead was "collateral damage" for someone with a grudge against the academy.
(SD-Agencies)