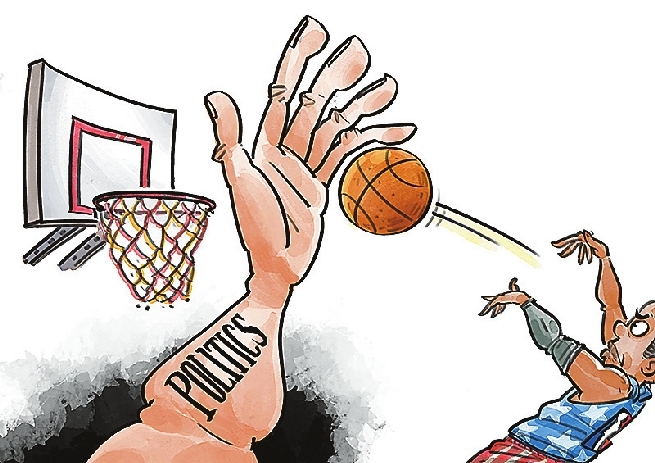 BEIJING said Thursday that it will, as always, welcome foreign businesses, including companies from the United States, to invest and operate in China, reaffirming its commitment to protect their legitimate rights and interests.
Foreign Ministry spokesman Geng Shuang made the remark after Washington criticized what it called China's manipulation of U.S. companies, alleging they were forced to abandon their values after comments on Hong Kong made by the Houston Rockets' general manager and remarks made by the National Basketball Association's (NBA) commissioner.
The business environment for foreign investment in China has been improving, and the country has been one of the most popular investment destinations for foreign companies for many years, Geng said.
He said 97 percent of U.S. companies in China reported profits in a survey. The results were reported in the U.S.-China Business Council annual member survey, completed in June on 100 U.S. companies.
"Are these American companies forced to give up their own values and have they all been manipulated by China?" Geng asked.
China's policy of creating a sound environment for foreign investment will not change, he said. China will continue interacting with the global community and welcomes foreign institutions and individuals to visit China for exchanges and cooperation.
The NBA came under fire last Monday for its response to a tweet by Houston Rockets' Daryl Morey in support of Hong Kong protests, the latest overseas business to run afoul of political issues in China.
Chinese observers condemned the NBA for applying double standards in defending "free speech" after a controversial tweet from Morey.
Morey infuriated Chinese fans by tweeting an image that read "Fight for Freedom. Stand with Hong Kong." That is a slogan often shouted by rioters during months of violent protests in Hong Kong.
The backlash to the tweet roiled the decades-long relationship between the NBA and its biggest overseas market as fans, observers and relevant organizations question the league's support for Morey's tweet in the name of protecting "free speech rights."
NBA Commissioner Adam Silver said in a statement released last Tuesday that the league's defense of free speech won't change, even with Morey's social media post widely considered in China as interference in the country's internal affairs.
Observers suggested the NBA has failed to realize the seriousness of the matter in Hong Kong, where protests have grown increasingly violent and become a threat to China's territorial sovereignty.
"Silver and the league appear naive in this case and appear to be still not able to understand that they are applying double standards in handling the issue," said Su Qun, chief editor of twice-weekly newspaper Basketball Pioneers. "They haven't realized so far that the boundaries for free expression regarding sensitive issues are different in China and the U.S. There are different taboos in other countries and cultures rather than just ethnicity, gender and religion in the States, which are non-negotiable."
State-owned television network China Central Television and Internet giant Tencent canceled broadcasting of two exhibition games between the Los Angeles Lakers and the Brooklyn Nets in Shanghai on Thursday and two days later in Shenzhen. CCTV also said it will review all cooperation with the NBA.
(China Daily)