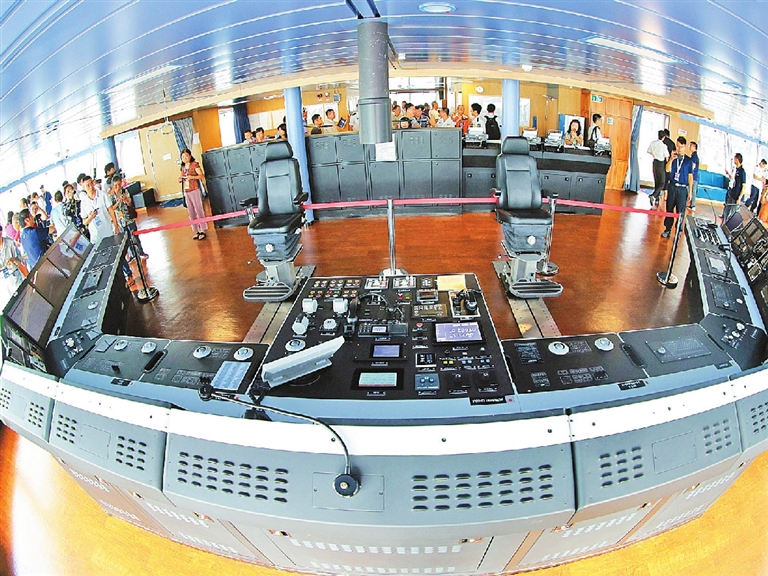 Zhang Yu
JeniZhang13@163.com
CHINA'S first domestically built icebreaker, Snow Dragon 2, or Xuelong 2, will set off from Shekou Cruise Homeport in Shenzhen to embark on its first Antarctic research expedition this afternoon.
According to a press conference held in the city yesterday, Snow Dragon 2 will make its maiden voyage to Antarctica with Xuelong (Snow Dragon), the only other Chinese icebreaker in service, in the country's 36th research mission to the region.
Snow Dragon 2 will first go to Zhongshan Station to conduct operations and then continue to carry out a comprehensive survey of Cosmonauts Sea and the Great Wall Station. The vessel is expected to return to China in late March 2020.
Zhongshan Station and Great Wall Station are both Chinese research bases in the Antarctic.
Scheduled to depart from Shanghai on Oct. 22, Snow Dragon will first go to Zhongshan Station for operations and proceed with scientific research in the Ross Sea and the Amundsen Sea.
Snow Dragon will subsequently return to the Davis Sea, Prydz Bay and Zhongshan Station for operations and is expected to return to Shanghai in mid-April 2020.
Qin Weijia, director in charge of polar research with the State Oceanic Administration, said the expedition team, consisting of 413 members, will make full use of a wide array of platforms to conduct observations in Antarctica by combining multiple disciplines involving land, ocean, atmosphere, ice shelf and biology.
The expedition will also cover the pre-construction project of a new research station on Enksburg Island, and the implementation of major national scientific research plans, as well as material supply, engineering construction, international cooperation and popularization of science research stations.
Designed by China State Shipbuilding Corp. and the Finnish Aker Arctic Technology Co., and built by Jiangnan Shipyard (Group), Snow Dragon 2 is said to be the first two-way polar icebreaker in the world capable of breaking ice at both the bow and the stern.
The ship is 122.5 meters long and 22.3 meters wide with a draught of 7.85 meters. It can break 1.5 meters of ice plus 20 centimeters of snow at a speed of two to three knots in either direction, enabling it to rotate 360 degrees without moving from the spot, according to the Polar Research Institute of China.
Equipped with world-class marine surveying and monitoring equipment, the icebreaker is a smart vessel with more than 7,000 intelligent sensors that can achieve intelligent navigation and energy efficiency. It also features a Leonardo AW169 helicopter that boasts excellent emergency response capabilities.
The vessel, which has been berthed in Shenzhen since Sunday, allowed 1,200 visitors to have a free tour of the ship yesterday and this morning.
China now has four research stations in the Antarctic with a fifth being built, as well as one at the North Pole.
► Snow Dragon 2 crew members pose for a picture yesterday.