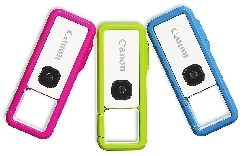 佳能推出迷你随身相机
After a successful teaser, Canon is officially releasing the IVY REC: a screenless, clippable, go-anywhere point-and-shoot camera* that was designed for outdoor lovers who want something that's more rugged than their smartphone to document their adventures.
The key ring-sized camera doesn't really compete with any established* category, making the IVY REC hard to place within the pantheon of the camera industry.
Inside the IVY REC is a sensor that can shoot high-resolution stills and videos.
Using the Canon Mini Cam app, you can frame your shots, set a self-timer, transfer images to your smart device, and keep updated on the state of your battery and how much room is left on the microSD card.
The camera is also shockproof and waterproof and features a built-in rechargeable battery that you can top up using the included cable.
The camera comes in Riptide (blue), Avocado (green) and Dragon Fruit (pink), and is priced at US$130.
(SD-Agencies)