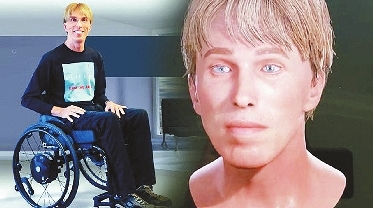 患病科学家被改造成半机器人
A terminally ill* scientist who suffers motor neuron disease* has taken the final steps to become the world's first cyborg*.
Peter Scott-Morgan, 61, was diagnosed with motor neuron disease two years ago, but instead of accepting his fate, he decided to challenge what it meant to be human. He said he wanted to push the boundaries of what science can achieve so he decided to extend his life and become fully robotic, known as Peter 2.0.
He has already undergone a series of incredibly complex and risky operations, which included developing a remarkably life-like avatar* of his face before he lost any muscle. The avatar is designed to respond using artificially intelligent body language, and he has also explored eye-tracking technology to enable him to control multiple computers using only his eyes.
Last week he announced the final procedure in his transition into a robot where he underwent a laryngectomy*, meaning he lost his physical voice, but in doing so, he will avoid the added danger of saliva* potentially* entering his lungs, due to his condition.
Scott-Morgan also has a remarkable top-end* wheelchair, which allows him to stand, lie flat and go fast. Scientists also inserted a feeding tube directly into his stomach, a catheter* directly into his bladder* and a colostomy bag* directly onto his colon*. These procedures will help him deal with feeding and toileting problems.(SD-Agencies)