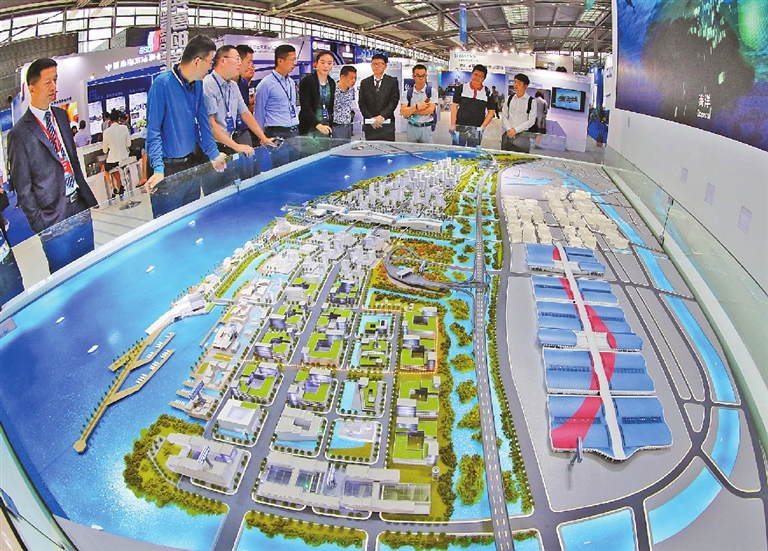 ONE of the city's 12 projects to achieve its goal of becoming a global center of ocean-based industries by 2035, the plan for Shenzhen New Marine City made its debut at the 2019 China Marine Economy Expo, which will wrap up today.
The project, to be located at the east side of the estuary of the Pearl River and in proximity to the newly built Shenzhen World Exhibition and Convention Center in Bao'an District, covers an area of 7.44 kilometers, according to the layout released by the city's urban planning and land resources committee.
Benchmarking the world's top three bay areas, namely the New York Bay Area, San Francisco Bay Area and Tokyo Bay Area, Shenzhen New Marine City is designed for becoming a strategic cooperation platform for global ocean governance, a model for China marine ecological civilization, and a marine science and technology highland in the Guangdong-Hong Kong-Macao Greater Bay Area.
It aims at building an industrial cluster of marine businesses worth hundreds of billions of yuan in the future.
It will give priority to industries of high-end marine equipment, marine electronic information, modern ocean services, marine environmental protection, and marine new energy as well as encourage innovation.
As a key project in the Greater Bay Area, it is expected to lead the development of the marine industry in the area. It will become one of the four marine industrial hubs in Guangdong. The other three are the Binhai Bay New Area in Dongguan, Nansha District in Guangzhou and Cuiheng New Area in Zhongshan City, according to the plan.
In August, the Central Government unveiled a detailed guideline on supporting Shenzhen in building a pilot demonstration area of socialism with Chinese characteristics. It was stated in the guideline that Shenzhen is supported in building itself into a global ocean center.
In order to achieve this goal, Shenzhen has mapped out 12 projects, which includes setting up an ocean university, a national deep-sea scientific expedition center, an international ocean development bank, a research institute on marine science and technology, a top global marine think tank, an international tuna trade center, a leading oceaneering enterprise group, a maritime court, a maritime museum, a maritime science and technology museum, a new marine industry development fund and the Marine New City.(Wang Jingli)