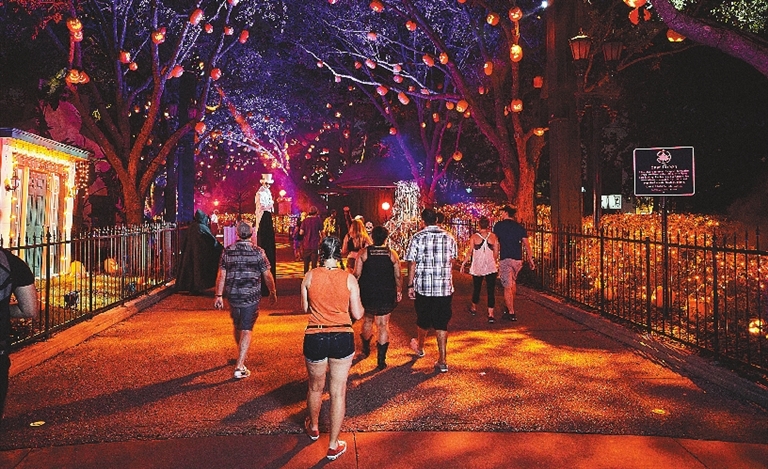 WHETHER you partake in the spooky celebrations or not, Halloween is a fascinating time of year — and much of its most iconic traditions are deeply rooted in history, dating all the way back to ancient Ireland.
Ever wondered why Jack o' lanterns exist? Or why people bob for apples in October? Here are the funny things you probably didn't know about Halloween.
The name "Halloween" is an ultra-condensed version of "All Hallow's Eve," the second night of a festival called Samhain, dating back to the ancient pagans in Ireland.
"Hallow" comes from an Old English adjective that means "holy," and "eve" refers to the nighttime setting. All Hallow's Eve was also referred to as All Hallow's Even — which was shortened to "Hallow-e'en" by the 16th century. People eventually dropped the apostrophe and dash in the 18th century.
The 2,000-year-old Celtic festival Samhain is the origin of Halloween, and Wiccans still celebrate it today.
The Celts were pagans who lived in what is now Ireland, and they celebrated the New Year on Nov. 1. Their festival, Samhain (pronounced "sow-in"), marked the end of fall's harvest and ushered in winter — a season that signified death and darkness for the Celts.
They believed that on the night before the shift, Oct. 31 — called All Hallow's Eve — the worlds of the living and the dead intersected. The ghosts roaming Earth were thought to help predict the future, so the Celts welcomed them with sacrificial bonfires and by dressing in costumes of animal heads and skins. Modern-day Wiccans and neopagans celebrate a similar form of Samhain, and it is considered their most important festival of the year.
If it weren't for the wave of immigrants fleeing the Irish Potato Famine, Americans probably wouldn't have Halloween. By the middle of the 19th century, some pockets in America celebrated a mild form of Halloween — including telling ghost stories, causing mischief, and just generally acknowledging autumn.
Ireland's Potato Famine that started in 1845 caused mass immigration — more than 1.5 million Irish people fled to America during that time. With them, they brought their long-held Halloween traditions, and the soon-to-be holiday caught on quickly, spreading nationwide.
Women used to play games on Halloween to find out what their future husband would be like.
For many women in the early 20th century, Halloween was about finding love.
Games like "Snap Apple" were popular, in which participants could only use their teeth to bite into an apple suspended from a stick — and the first one to succeed would marry.
Women also used to toss apple skins over their shoulders, hoping the scraps would land on the floor in the shape of their future husband's initials.
The bobbing-for-apples game dates back to an ancient Roman festival called "Ponoma."
When the Roman Empire overtook the Celts around 43 A.D., they combined their traditions with those of Samhain.
The second day of their New Year festivities was "Ponoma," meant to honor the eponymous goddess of fruits and trees — which explains bobbing for and eating apples around this time of year.
During the 18th century, "bobbing" rose in popularity in the British empire — and was yet another way to flirt with a potential mate. Despite a brief wane in popularity, the game was revived by the Irish when they immigrated to America.
Halloween was "tamed" in the beginning of the 20th century because it was getting too dangerous.
Along with Roosevelt's New Deal, the 1920s and '30s came with a concerted effort to rein in on Halloween by making it family-oriented and civilized.
Communities came together for parades and town-wide parties, and newspapers encouraged parents to remove "grotesque" and "superstitious" elements from these celebrations.
The holiday became increasingly youth-oriented thanks to the 1950s baby boom.
By the time the 1950s hit, American communities had succeeded in removing the taboo from Halloween — including vandalism, which had previously run rampant on Oct. 31. The holiday also became more family-oriented, and Halloween parties began to move to school classrooms and homes. Trick-or-treating was also revived around this time and has been steadily practiced since.
We eat candy on Halloween because of "soul cakes" — a sweet treat used to distract ghosts in the Middle Ages. Around 1200 — in places like Britain, Ireland and Germany — "soul cakes" rose in popularity. Made of expensive spices like saffron and currant, these cakes were meant to both honor and distract roaming ghosts on Oct. 31.
As time went on, beggars would walk around door-to-door asking for "soul cakes" from the wealthy, offering to pray for their dead relatives in return. But instead of saying "trick or treat," they'd say: "A soul cake, a soul cake, have mercy on all Christian souls for a soul cake!"
Jack o' lanterns come from an old Celtic legend about a man named "Stingy Jack," who used to play tricks on the devil. After Stingy Jack died, the devil sent him into the night with only burning coal — which Jack put into a carved turnip to light his way. According to folklore, Stingy Jack's ghost still wanders the Earth — so the Irish used to carve scary faces into turnips and put them in windows to scare his spirit away. Irish immigrants came to America and found that the pumpkin — which they had never seen before — was a much better fit for the tradition.
(SD-Agencies)