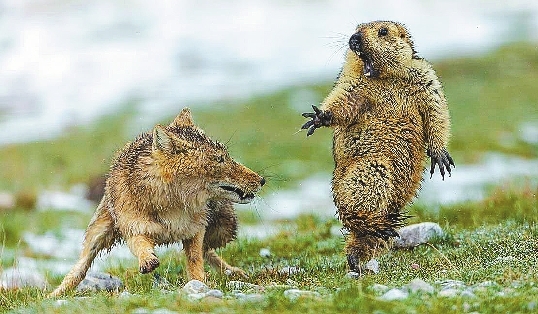 CHINA'S Bao Yongqing has claimed one of the world's top photography awards after being announced as the overall winner of the Wildlife Photographer of the Year competition for 2019.
Wildlife Photographer of the Year is developed and produced by the Natural History Museum, London. This year's staging of the competition was the 55th and drew more than 48,000 entries from 100 countries, with the winning entry, entitled "The Moment," coming from the native of Qinghai Province.
The picture captures a remarkable stand-off between a Tibetan fox and a marmot and was taken on the Qinghai-Tibet Plateau.
The picture captures the instant a female Tibetan fox, hunting to keep her three cubs alive, engages in a fight for survival with a Himalayan marmot.
"Photographically, it is quite simply the perfect moment," said Roz Kidman Cox, the chair of the judging panel.
"The expressive intensity of the postures holds you transfixed, and the thread of energy between the raised paws seems to hold the protagonists in perfect balance.
"To have captured such a powerful interaction between a Tibetan fox and a marmot — two species key to the ecology of this high-grassland region — is extraordinary."
Tibetan foxes are only found on the high Tibetan and Ladakh plateaus, which extend into Nepal, China, India and Bhutan.
While the foxes are wide-ranging and so not necessarily rare, living at altitudes of up to 5,300 meters on the plateau's isolated steppes means that they are difficult to observe. In fact, this remoteness has contributed to the lack of scientific knowledge about the striking-looking canines.
While they are only listed as vulnerable by the International Union for the Conservation of Nature, the grasslands on which they live are used by livestock herders, which bring them indirectly into conflict with humans.
The foxes are not hunted or persecuted, but the prey on which they rely on is. The foxes are dependent on a small mammal known as the plateau pika, a species which has been subject to eradication attempts.
Museum Director Michael Dixon said the picture captured "nature's ultimate challenge — the battle for survival."
"The area in which this was taken — is under threat from dramatic temperature rises like those seen in the Arctic. At a time when precious habitats are facing increasing climate pressures, seeing these fleeting yet fascinating moments reminds us of what we need to protect."
Cruz Erdmann, a 14-year-old born in Bali and now living in New Zealand, won Young Wildlife Photographer of the Year for his portrait of an iridescent big fin reef squid on a night dive in the Lembeh Strait off North Sulawesi, Indonesia.
The exhibition at the Natural History Museum in Kensington opens Friday and runs until the end of May 2020, when it will go on a tour in the United Kingdom and to other parts of the world. Entries for next year's competition will be accepted from Oct. 21.
(SD-Agencies)