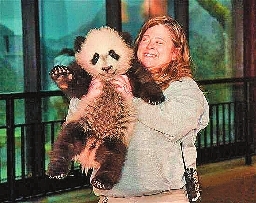 THE Smithsonian's National Zoo, located in Washington, DC, is preparing for an eight-day farewell celebration for giant panda Bei Bei, who will depart for China next month as part of the zoo's cooperative breeding agreement with the Chinese side, the U.S. national zoo announced on its website Friday.
"Our giant pandas represent much of what the Smithsonian does best, from conservation to education," said Lonnie Bunch, secretary of the Smithsonian, in a statement from the zoo.
The farewell celebration has been scheduled for Nov. 11 to 18 at the zoo. Bei Bei is to leave for China on Nov. 19, said the statement.
During the celebration, the zoo will hold an online and on-site series of "Bye Bye, Bei Bei" events to bid a fond farewell to Bei Bei before he begins the next chapter of his life in China. The zoo will be using #ByeByeBeiBei on all updates posted on social media platforms, according to the statement.
"Bei Bei is part of our family," said Steve Monfort, John and Adrienne Mars director of the Smithsonian's National Zoo and Conservation Biology Institute, "Our team has cared for him, learned from him and, along with millions, loved watching him grow."
"We're sad he's leaving, but excited for the contributions he will make to the global giant panda population," said Monfort.
Under the zoo's cooperative breeding agreement with the China Wildlife Conservation Association, all cubs born at the zoo move to China when they are 4 years old. Bei Bei turned 4 Aug. 22 this year.
Panda keepers are already preparing Bei Bei for the move to make sure he is comfortable and safe during his journey, including gradually acclimating Bei Bei to a travel crate. When Bei Bei departs for China, he will be accompanied by one panda keeper and one veterinarian. FedEx will fly Bei Bei and the panda team nonstop from Washington, DC, to Chengdu, southwestern China, in a dedicated B777 aircraft.
It is better for pandas to travel in the fall and winter months when it is cool, instead of in the heat of summer, said the panda keepers.
Bei Bei was born on Aug. 22, 2015, at the zoo.  (Xinhua)