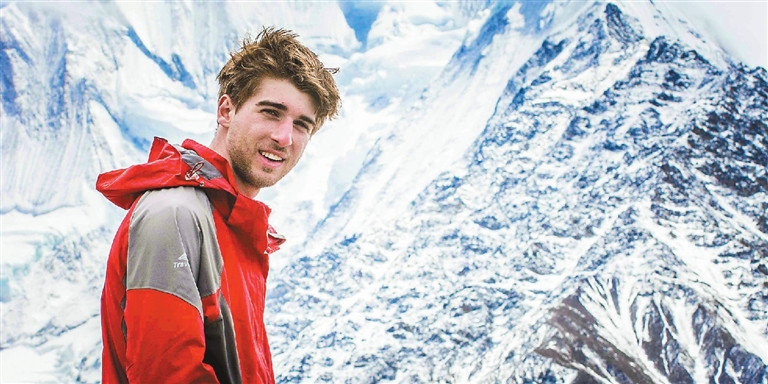 Kyle Obermann broke his promise of never returning to China five years ago. Oddly, he never feels a day of regret about his decision.
On September 25, the young American won a second-class prize and the best editing award in the "@China" Global Short Video Contest presented by the People's Daily. This contest asked candidates to upload videos themed "China and I" to tell their China stories to the world. Over the course of the contest, People's Daily received over 430,000 submissions from more than 60 countries across the globe. Among all submissions, only five were awarded the second-class prize and only one was chosen for the best editing award.
Obermann's video was produced in collaboration with his alma mater Peking University. The American PKUer is a conservation photographer working in China, and he is also the founder of Explore to Conserve, a Chinese social media movement dedicated to connecting China's outdoor industry and environmental movement. He has been named the Wild China Explorer 2017, a title that comes with a US$5,000 travel grant.
During Obermann's first short stay in Beijing in 2013, he ended up with asthma, which took him almost a year to recover from. He blamed smog for the ordeal. When the six-week study ended, it also ended his aspiration to work as an expert of the China-U.S. relationship in the U.S. embassy. That was how the promise he broke later was set.
"The asthma ruined my last year of running in college, and I told myself I will never go back to Beijing," Obermann told CGTN.
A year later, enticed by the opportunity to study Chinese at Peking University, he broke his promise and returned to China — and he hasn't left since.
His understanding of China and the country's environmental protection came solely from Western media and English search engines.
"If you google 'China environment,' the first page of images is all pollution," he said. "When we read the news from Western media, and we saw the pollution problems, we assumed that the Chinese Government was not supporting (environmental protection) and favoring economic development over environmental protection," he said.
However, after taking part in activities held by local environmental protection NGOs and seeing government officials consult with NGO researchers on tackling environmental issues, he found the Chinese Government actively supports any idea that helps reduce pollution.
His preconceived ideas about China crumbled piece by piece as he dove deeper into the country. The trip to Mount Gongga in Southwest China's Sichuan Province in 2015 became the first step in cracking open the door for a peek at unknown landscapes.
"I also posted a lot of pictures on social media. All of the followers and friends couldn't believe that is China. They were so curious. I didn't even think it is China. This is so interesting," said Obermann.
Obermann now works as a photographer based in Chengdu, capital of Sichuan Province. His footprints have covered provinces like Yunnan, Sichuan, Gansu and Qinghai. During his explorations, social media is used as his most effective tool for updating followers across the world whenever he encounters unusual or breathtaking scenery. By sharing his experience and the landscape, he believes more attention and support will be drawn from the public, and environmental protection will be better understood. He calls this concept "explore to conserve."
(SD-Agencies)